Microsoft confirms Kinect, Halo: Reach, Gears 3 for ComicCon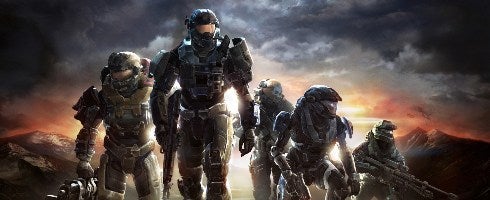 Microsoft's a whole list of panels and games that will be at ComicCon a week-and-a-half from now, including Halo: Reach, Fable III, Gears of War 3 and Kinect.
Also promised to be playable at the event is the lot of Arcade titles coming as part of the Summer of Arcade.
There will also be a special section off-site that will allow players to go play with Kinect and titles like Kinect Sports, Joy Ride and Dance Central.
Panels from Microsoft includes those from Bungie's Brian Jarrard, Lars Bakken and more on Halo: Reach, 343 Industries' Frankie O'Connor and others on the Halo universe and Epic Games' Cliff Bleszinski, Rod Fergusson and Gears 3 writer Karen Travvis.
There's also a panel thrown in there on web series The Guild.
Sounds like good shit, Spartan.
Press release is below.
ComicCon kicks off on July 22.
Exclusive Blockbusters and the Controller-Free Experiences of Kinect for Xbox 360 Sure to Wow the Crowds at Comic-Con International 2010

"Halo: Reach" and "Gears of War 3" panels lead Microsoft's activities at the world's largest pop culture convention

As thousands of comic fanatics, gamers and sci-fi junkies flock to the 40th annual Comic-Con International starting Thursday, July 22, Xbox 360 is primed to steal the show with "Halo: Reach," "Gears of War 3," "Fable III," Xbox LIVE Arcade, playable Kinect experiences, and more. In addition to gameplay stations at the Xbox booth and the Xbox 360 Experience Room at the Hard Rock Hotel, fans will also have the opportunity to hear from the developers at Bungie, Epic and 343 Industries at three panels throughout the week.

Xbox 360 Comic-Con International activities include:

Xbox 360 Booth

Booth #5153

Thursday, July 22 – Saturday, July 24, 9:30 a.m. – 7:00 p.m.

Sunday, July 25, 9:30 a.m. – 5:00 p.m.

With multiple gameplay stations featuring the biggest blockbuster games of 2010 and 2011 exclusive to Xbox 360, attendees can experience "Halo: Reach," "Fable III," "Gears of War 3" and Summer of Arcade on Xbox LIVE Arcade.

The Xbox 360 Experience Room at the Hard Rock Hotel

Imagine Room – Hard Rock Hotel

Friday, July 23 – Saturday, July 24, 9:30 a.m. – 7:00 p.m.

Sunday, July 25, 9:30 a.m. – 5:00 p.m.

For fans looking for the hottest action off of the show floor, the Xbox 360 Experience Room will feature hands-on with some of the biggest Xbox LIVE Arcade titles from the upcoming Summer of Arcade lineup, as well as "Dance Central" (MTV Games), "Kinect Sports" and "Joy Ride" for Kinect for Xbox 360.

"Halo: Reach" Panel with Bungie Studios

Room 6BCF

Thursday, July 22, 6:00 – 7:00 p.m.

Join the developers of the year's biggest blockbuster, "Halo: Reach," to find out what's "outside the canyon." Featuring Lars Bakken, Brian Jarrard and more of Bungie Studios, this panel is a can't-miss opportunity that will feature exciting "Halo" news and a Q&A with the team. It is open to all show attendees on a first-come, first-served basis.

"Gears of War 3" Panel with Epic Games

Room 25ABC

Friday, July 23, 6:30 – 7:30 p.m.

Looking ahead to the biggest game of 2011, join the team from Epic Games for an up close look at the "Gears of War 3" four person co-op campaign, as the team also talks about the broader "Gears of War" universe and fields questions from the audience. Featuring design director Cliff Bleszinski, executive producer Rod Fergusson, and New York Times bestselling author Karen Traviss, this panel is open to all show attendees on a first-come, first-served basis.

"Gears of War" Developer Signing

Xbox booth (#5153)

Saturday, July 24, 12:00 – 1:30 p.m.

Join the team from Epic Games, including design director Cliff Bleszinski, executive producer Rod Fergusson, and lead writer Karen Traviss, as they meet fans and sign merchandise for show attendees.

The Guild Panel

Indigo Ballroom, San Diego Hilton Bayfront

Saturday, July 24, 2:00 – 3:00 p.m.

Writer/producer and Comic-Con special guest Felicia Day, producer Kim Evey, director Sean Becker, and the cast of "The Guild" (including Wil Wheaton) are on hand for a discussion and Q&A, along with the debut of never-before-seen content and other surprises from the award winning webisodes available on Xbox LIVE Marketplace. This panel is open to all show attendees on a first-come, first-served basis.

"Halo" Universe Panel with 343 Industries

Room 32AB

Sunday, July 25, 11:00 a.m. – 12:00 p.m.

Microsoft's Halo studio, 343 Industries, is hosting a special "Halo" franchise panel. Halo Franchise Development Director Frank O'Connor and other renowned series creators, including partners at McFarlane Toys and Weta, will discuss the future of the broader "Halo" universe. This panel is open to all show attendees on a first come, first-served basis.

###