Lollipop Chainsaw remake revs its way towards a 2024 release date, gets a proper title
Say hello to Lollipop Chainsaw RePOP.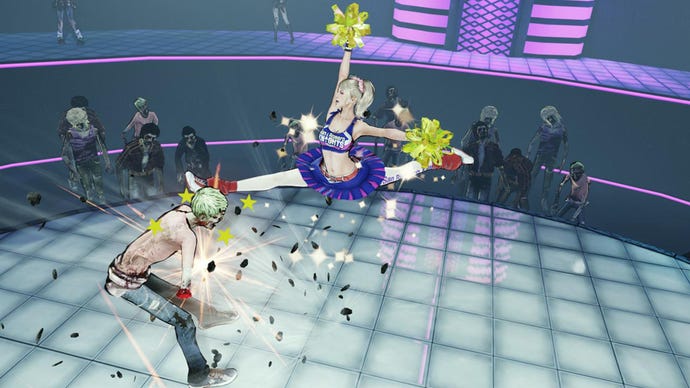 You probably won't be that surprised to hear it, but the Lollipop Chainsaw remake has been delayed into 2024.
Earlier this week, developer Dragami Games announced on Twitter that the remake of the 2012 cult classic will no longer be releasing in 2023, and is instead arriving next summer, 2024. Not only that, the game is now officially called Lollipop Chainsaw RePOP. "The title of Lollipop Chainsaw Remake (tentative name) has been decided as Lollipop Chainsaw RePOP," Dragami Games wrote on Twitter (translations via DeepL). "In addition, the release date has been postponed from 2023 to the summer of 2024. We will make every effort to create a high quality game, and we ask for your continued support!"
Watch on YouTube
Lollipop Chainsaw RePOP was first announced last year, to commemorate the game's 10th anniversary. The original released back in 2012, selling around a million units worldwide, a pretty reasonable figure but not one that gave the game much longevity. There are some changes planned for the series, but following its announcement Dragami Games president Yoshimi Yasuda did put out a statement in an attempt to address any concerns fans might have.
"The primary goal of the Lollipop Chainsaw remake project is to make it so that players who wish to play Lollipop Chainsaw can do so easily, not to make a new Lollipop Chainsaw game," Yasuda said at the time. "Of course, the ideal thing to do would be to make a remastered version of the original game, changing nothing. However, we were unfortunately unable to include 16 of the licensed songs, which were a great part of the original game's feel, and so we are instead aiming for a remake that is as close as possible to a remaster."
By the sounds of it, unfortunately if you want the original, unchanged experience, you will need to pick up a copy on PS3 or Xbox 360.
There's no word on what platforms the game will be launching on, but it will presumably be available on PS5 and Xbox Series X/S when it does arrive next year.