Last night's Halo: Reach London premiere released in arty photo format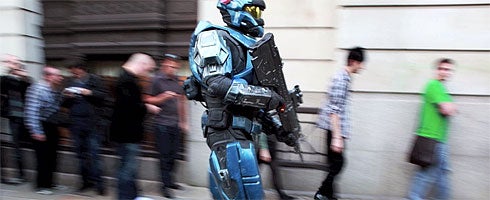 Microsoft's just put out a slideshow of last night's Halo: Reach premiere in London, showing footballer Rio Ferdinand and his team getting completely beaten by regular Halo players. Who knew?
There are plenty of images here of people we've never heard of but are clearly supposed to have heard of standing next to pretend Spartans.
We've heard of Rio Ferdinand. The fact we don't know who the other people are is no judge of anything; we live in holes full of smoking computers and survival knives.
The idea of the event was to pitch a team led by Rio against a team of Halo players. A chap was supposed to train Rio and the gang to win. Obviously, this didn't work. But still. PR and all that.
Give it a waz. Halo: Reach, "Halo 4 in all but name" and Bungie's last Halo game, releases worldwide next Tuesday.