Korea: StarCraft II gets put on a plane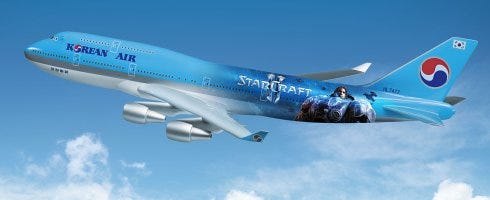 Blizzard Entertainment Korea has announced a co-marketing plan with Korean Air for StarCraft II: Wings of Liberty, which will see character Jim Raynor's image wrapped on two planes belonging to the airline.
Both planes will fly domestic routes in Korea as well as international routes in US and European regions for six months starting on June 24 and in early July, respectively.
In addition, four Korean Air limousine buses wrapped with StarCraft II character images will be in service during this period.
The airplane was unveiled earlier today during the StarCraft II: Wings of Liberty launch press event at the Korean Air hangar located at Gonghang-dong, Kangseo-gu, Seoul.
StarCraft II: Wings of Liberty's out on July 27 worldwide.
Via PR.