Interview - Valhalla's Tomonobu Itagaki and THQ's Danny Bilson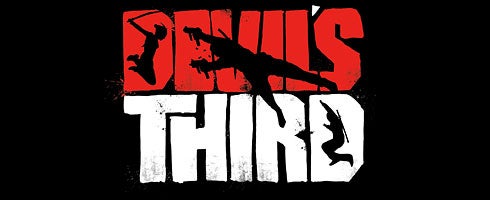 E3 isn't exactly "normal," but only one interview properly blew me away. I'd arrived at THQ's booth for a meeting about "unannounced game" I made with UK PR weeks before, to be confronted with a screen showing the Devil's Third logo, Valhalla legend Tomonobu Itagaki and THQ Core boss Danny Bilson, who was finishing off a phone interview with the Wall Street Journal.
Our chat, which saw Itagaki remove his trademark sunglasses and featured some genuinely touching comments from two genuinely sincere men, ended with the most surreal moment of my entire show. I stood up to leave and both Bilson and Itagaki went to shake my hand at the same time. I didn't know what to do, so I grabbed both their hands simultaneously. For a second we all stood there, in the middle of THQ's E3 booth, holding hands.
I have no idea if it was the "right" thing to do or not, but it seemed fitting. Bilson and Itagaki are two men on a journey. Bilson is trying to build THQ's core output by signing the best in the business, and Itagaki was talking about his first project since his very public falling-out with Tecmo and his departure from Team Ninja. There was passion, not arrogance, in the room. There was no cynicism or question-dodging; just a desire to make amazing videogames.
See for yourself.
VG247: A question for Itagaki-san first of all. Can you tell us why E3's the right time to announce Devil's Third?
Tomonobu Itagaki: People around me kept saying a million times, "We want to announce it, we want to announce it, we want to announce it." So we had to do it.
Are you pleased now that you can show you've moved on from Team Ninja, on from the past and onto something new?
Tomonobu Itagaki: I'm always going after something new. I like a new challenge. Of course, this is going to be a big franchise. There's the possibility of developing this thing to different media; this is going to be a trans-media type of game. I'm always trying to find a new genre. This is really exciting.
Danny, you must be thrilled to sign the game. How significant a deal is this for THQ's core output?
Danny Bilson: It's significant in that it's a part of a strategy we have at Core. Itagaki-san is the first major piece of talent that we've signed, but our strategy is to not acquire studios: it's to work with talent. We're seeking out some of the best talent in the world to build games for us. They were the first. You're going to see two more announcements in the next six months of major talent coming to work here at THQ as well, and I'm really excited about what that's going to do for our line-up.
Another one for Itagaki-san. The action genre is very well developed, and you personally pushed it very hard in your time at Tecmo. Can you just give us a top-line feel as to how you're going to advance the third-person action genre with Devil's Third?
Tomonobu Itagaki: This is one important piece of information for you: this is a shooter-action game.
Was it important for you to move beyond ninjas and incorporate guns into the game?
Tomonobu Itagaki: It's not that I'm abandoning the style of Ninja Gaiden or Dead or Alive. I think they're both really good games. We're not abandoning it. I'm trying to incorporate the know-how that I've established, and also the career I've developed over the years, into this new shooter game. I'm just trying to tackle a new challenge.
Why did you specifically pick THQ as a partner for Devil's Third?
Tomonobu Itagaki: Danny and I are really alike. You know, only after ten minutes of meeting each other, we really got close to each other, and we were playing a beta version of the multiplayer game downstairs right after we met.
There's been a lot of talk of 3D and motion here at E3, but your games do tend to stay very much in the core action space. Are you excited about 3D and motion, or are you sticking to the pad for Devil's Third?
Tomonobu Itagaki: The PlayStation 3 version is going to support 3D visuals. I myself have a 3D TV in my living room, so there's no impossibility that it's in my house. But to be honest with you, we have to first spec out the power and strength of PS3, and after we do that, we can start talking about it, so I can't promise anything at this point.
Danny, you're in a very competitive space in signing up studios like this, up against the likes of Activision and EA. What do you think THQ brings to the table that attracts developers like Itagaki-san?
Danny Bilson: I think what you're going to see is the best developers in the world coming to THQ over the next year, because our system is completely different to the other companies. Of course, we can be competitive in the deal, but it's not about that. At THQ Core, our marketing department and our product development department work as one, together under my supervision. I come from creative, so at THQ, games are built from a creative [standpoint] first, then marketing looks at it and figures out a creative campaign. We don't do market research on, "What do kids want to play?" We make games that we want to play, and we hire professionals. We are very professional, and we play games all the time. What we're building at THQ are the games we want to play the most.
This is very radical compared to the rest of the business, but this how we beat the competition, and this is how we get to better quality. No market research is ever going to tell you what the next hit is. If it did, we could all go home. Just tell us what to do, guys. But there's a giant industry that propagates that. That's great for the other companies; it has no place at THQ Core. If you talk to any of our marketers, what they do is respond to the marketable software, and they create creative campaigns. We are the most artist-friendly organization in the world now, because THQ Core is run by a creative leader, not by a business leader.
This is radical for the entire entertainment business today. It is not radical for the entertainment business of 20 or 30 years ago, when some of the best art was made in cinema and in the world in the 70s. It was all driven by the artists.
We are at THQ Core an artists-driven company. And it's completely different from everyone else. We've also detached forecast from spend, and that means the sales crew can make up whatever numbers they want. No one can ever forecast anything for real; it's just a guess. Once you detach that, we can ask what it costs to make a game incredible and what it costs to make that game sell, campaign-wise. It doesn't matter what the forecast is. It's what we believe. It's what our artists and our teams believe in this game, and I think what you're going to see on the show floor here today is the first wave of artists-first software. And you're going to see more talent coming to THQ.
Honestly? To compete with our friends at Activision and EA? I think they're going to have to start worrying about competing with us. Everybody wants to work here. There are two big announcements coming that will blow your mind.
Literally blow my mind?
Danny Bilson: Yes.
Awesome. I like that.
Tomonobu Itagaki: To respond to that comment – and this is just an analogy – but I like to develop apple fields, in a location where no one would imagine apples would grow. So, once the apple field's established, apples will grow and we'll get a lot of [apples]. But I'm not really interested in people that are only interested in how to optimize the cultivation of the fruit.
I like to grow oranges too. [Everyone laughs] So that's what the next franchise will be, huh?
One last one for Itagaki-san. He's one of the world's leading games creatives, and his departure from Tecmo must have been a difficult period. It was a very public period. Is he glad to be able to put it all into the past and work with a partner that's so open to allowing him to realize his vision?
Tomonobu Itagaki: I'm going to talk about two things.
OK.
Tomonobu Itagaki: Firstly, when I resigned from Tecmo, there was difficulty, but there were two things I had to finish there. I had to let my art director guy, [Hiroaki] Matsui, finish making the game he was leading, which was Ninja Gaiden 2. He had some unfinished business from Ninja Gaiden 1, so I wanted him to complete what he wanted to do.
Another thing is that my daughter cries and cries. She says, "Daddy has to make Dead or Alive."
[Everyone laughs – Itagaki-san says in English, "True story," then hands back to the translator.]
It took about a year to convince her. But, you know, that's two years ago. I have new friends, a new company and a new partner. It's something really exciting, and something you can really look forward to, I think.
Devil's Third was announced just before E3. You can watch the full reveal trailer here. THQ pegged it for a 2012 release at the show.