Huge Xbox deals planned during E3, including $100 off an Xbox One X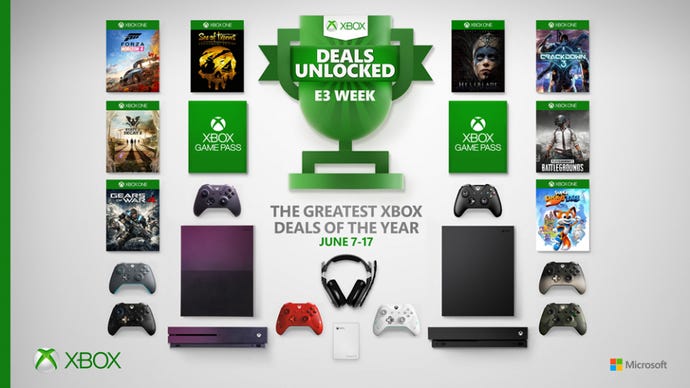 Microsoft is gearing up for E3 with huge discounts on its consoles, controllers, and games, including $100 off an Xbox One X.
Beginning June 7 and ending June 17, the following deals hit online and physical stores:
$100 off Xbox One X
$50 off the new Xbox One S Fortnite Battle Royale Special Edition Bundle
$50 off Xbox One S bundles and the new Xbox One S All-Digital Edition
Up to 75% off select games
$10 off controllers
The Xbox One X discount is a great deal, considering the strongest console on the market still retails for up to $499. If your launch Xbox is on its last legs, the Xbox One S All-Digital Edition is a great upgrade, boasting a 1TB hard drive and a wireless controller for only $199 during the sale.
Deals on consoles and games will vary by retailer, but Microsoft says Xbox One X Enhanced titles will be discounted, including Sea of Thieves, FIFA 18, Assassin's Creed Origins, and Forza Motorsport 7. Other games on sale include:
Sekiro: Shadows Die Twice
Forza Horizon 4
World War Z
The Division 2
NBA 2K19
Anthem
Call of Duty: Black Ops 4 Spectre Rising Edition
PC gamers can rejoice in the sale, too: certain FreeSync displays will be available at up to $500 off, as well as some PCs and laptops. You can see the sale's full specs over on Xbox Wire.
E3 is, gasp, next week! Here's a guide for when you can watch every conference and presentation.