Guild Wars 2 combat and elementalist detailed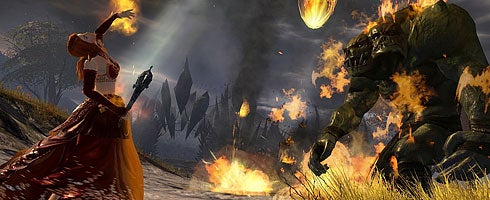 NCsoft's given a first peak into Guild Wars 2's combat mechanics, with a two-part feature on the subject from the game's main designer set to release on ArenaNet.
The elementalist profession from the free-to-play MMO sequel's been detailed to a decent level as a pre-feature tease. This is the game's first profession reveal.
The elementalist can channel fire, water, air and earth (shock) to "call down precision lightning strikes, trigger volcanic eruptions, or heal allies."
There's a press release below. IGN has a feature up on the elementalist, screens and all.
Still nothing approaching a solid release date, but at least it's something.
Guild Wars 2 Combat Mechanics and Elementalist Profession
ArenaNet Opens the Vault Revealing Guild Wars 2 Gameplay
Hot on the heels of ArenaNet President Mike O'Brien's "Guild Wars 2 Design Manifesto," the studio today released specifics on what players can expect from one of Guild Wars 2's most exciting components – combat mechanics – as well as details about the Elementalist profession. This latest reveal gives gamers a first look at the visceral and dynamic action they can expect to find in the highly anticipated Guild Wars 2, the upcoming sequel to the acclaimed Guild Wars franchise.

ArenaNet is set to post a two-part feature straight from Lead Designer Eric Flannum that describes the core components of Guild Wars 2 combat mechanics, showcased through an explanation of the game's principles, examples of combat in action, sample skills, and a brand new look at the Elementalist profession.

The combat highlights include:

• Visual and dynamic combat - Manoeuvre around an opponent to strike for maximum damage or send them flying through the air. Create giant crushing stone hands, turn into a massive tornado, or summon a flock of vicious birds of prey to swarm your enemies.

• Cross-profession combos - Combine attacks from different professions for extra damage, like shooting arrows through a flaming wall to create a barrage of fiery projectiles, or sending pets through a cloud of poison so they spread the toxin among the enemy.

• Environmental weapons - In the hands of a skilled Elementalist, a simple boulder can be turned into a meteor storm. Or save the day by taking control of a siege weapon on the battlefield!

• A skill system that is easy to learn and rewarding to master - In Guild Wars 2, you start with a strong base set of skills, but the game allows for deep player customisation. You get your base skills from the weapons you wield and then customise your skill-set with racial skills, healing skills, profession skills, and even a devastating elite skill.
In order to illustrate the combat system in action, ArenaNet also introduces the Elementalist, the first profession reveal of Guild Wars 2. Channelling the forces of nature, the Elementalist represents:

• Versatility - Adapting to any situation, the Elementalist can attune to the elements of Fire, Water, Air, and Earth. Each element provides a separate set of options and visually-powerful attacks, like the ability to call down precision lightning strikes, trigger volcanic eruptions, or heal allies.

• Distinctive Mechanics - Glyphs, Signets, Conjurations, and Attunements provide a distinctive set of mechanics that foster versatility and garner grand results, ranging from area-of-effect destruction to defensive snares.

An innovative skill system, unique profession mechanics, and extensive customisation combine to make combat in Guild Wars 2 an immersive, exciting experience.

Fans of the franchise are encouraged to follow Guild Wars 2 on Twitter and Facebook for additional information about gameplay, lore, profession mechanics, overall systems, and sneak peeks of exclusive content.

For more information on Guild Wars 2, the design philosophy, and specific combat and Elementalist news, please visit www.guildwars2.com and http://press.ncsoft.com for press assets.

Guild Wars 2 is a visually stunning MMO that will offer players the epic grandeur of a massive role playing environment combined with innovative combat mechanics, dynamic events, and personal storytelling. Building on the success of Guild Wars, ArenaNet is creating an MMO that lets gamers play the way they want, while at the same time retaining the no-subscription-fee business model that has made the original Guild Wars so popular.