God of War: Ascension multiplayer DLC is all free to celebrate game's first birthday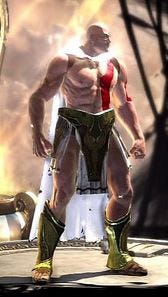 God of War: Ascension's selection of multiplayer DLC is available free of charge over on PSN. The giveaway celebrates the game's first birthday and runs for a week.
In other Sony Santa Monica Studio news, former Capcom community manager Seth Killian is confirmed to have left the company.
The deal was posted on PS Blog, and confirms that all weapon and armour DLC is free, while paid boosters will receive a 50% discount. The 36-hour XP booster now costs $4.50, for example.
The studio is also offering a limited 'Marked One' skin and cape for players to - ahem - 'mark' the occasion, and it can be yours by taking part in this forum thread.
Via IGN.