Genshin Impact Cooking Guide - How to process ingredients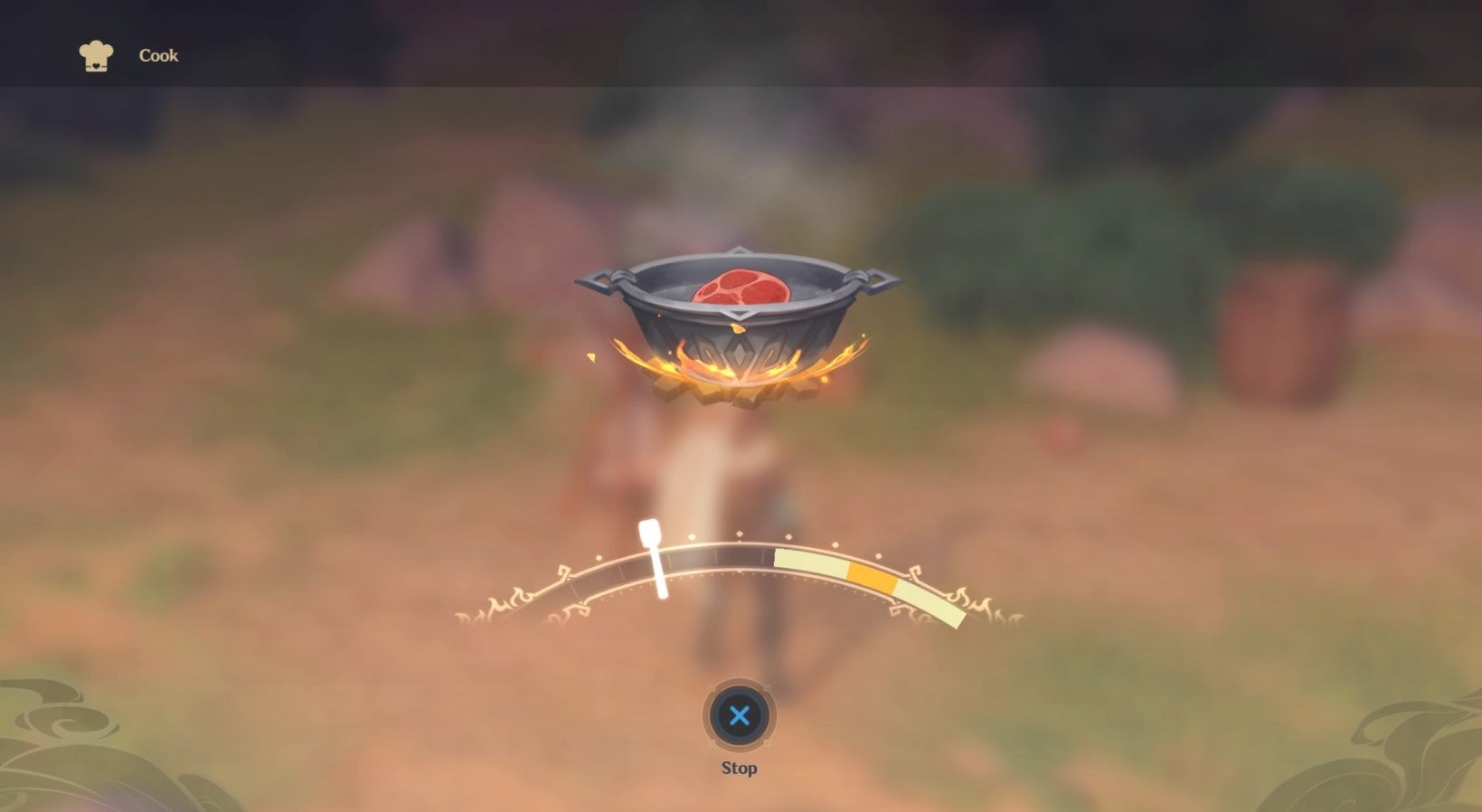 As well as fantasy combat and open-world exploration, Genshin Impact includes a few skills that feel a little closer to home. Cooking is the best way to keep your party healthy, and if you know what you're doing, can yield a variety of special items and bonuses as well.
While you can find most of the ingredients you need either out in the world or by purchasing them from The Good Hunter and General Store in Mondstadt, you can also process the raw ingredients you find to complete more complex recipes.
Here's how cooking works in Gensin Impact.
Cooking in Genshin Impact - Basic Cooking
Cooking with basic ingredients is relatively simple, but there are a few surprises along the way.
Basic ingredients are picked up off the floor, scavenged from trees, or dropped by creatures. To cook them, you need to visit a fire with a cooking pot.
The easiest place to do this in the early game is just by the bridge leading up to Mondstadt.
If the fire isn't lit, then you need to ignite it with a fire ability - such as Amber's charged normal attack. Once it's active, you can use a cooking pot for all sorts of purposes.
When you interact with a fire, you can select which recipe you want to make.
Each recipe has its own proficiency, and once you've made that recipe a certain number of times and maxed its proficiency it will just be made automatically for you when you select it.
When manually cooking a recipe, you have to time a button press to when the spoon reaches the highlighted area on the cooking bar. Hit it perfectly, and you'll cook an extra tasty version of the recipe you selected which gives additional bonuses when consumed.
Cooking in Genshin Impact - Additional Character Bonuses
Different characters in your party have different special dishes in their repertoire. Before you commit to cooking a dish, you can select which character cooks it with Square on PS4.
For example Kaeya's speciality is chicken skewers and Amber is best at Steak.
If you select one of these characters to cook their speciality, then you have a chance of bagging extra powerful versions of the meal which are even better than the perfect dishes you can cook yourself.
It's worth checking if you have a character with a particular speciality before you commit.
Processing ingredients in Genshin Impact - where to find more ingredients
Outside of the basic meals you can cook with meat and fowl, there are tons of more complicated recipes you can concoct with better ingredients.
At Adventure Rank 15, you can buy more recipes from The Good Hunter, but before then you can buy all sorts of fun ingredients from the General Store on the main street in Mondstadt.
With those in hand, when you interact with a fire, you can press R1 on PS4 to switch to the Process menu. Here you can combine your basic ingredients and process them into more complicated ones.
For example, you can turn multiple stacks of meat into a sausage.
This takes time, but is how you access the more potent recipes in Genshin Impact and become a true culinary master.
Now you've slaked your appetite, maybe you want to solve the mystery of the ancient Arcadian ruins in the Secret Pirate Treasure quest - which we have a guide for here.
Or we also have a Genshin Impact FAQ going over how to play with friends, as well as fixes for common connection bugs.