Genshin Impact FAQ - Play with friends, Update Failed, Slow Download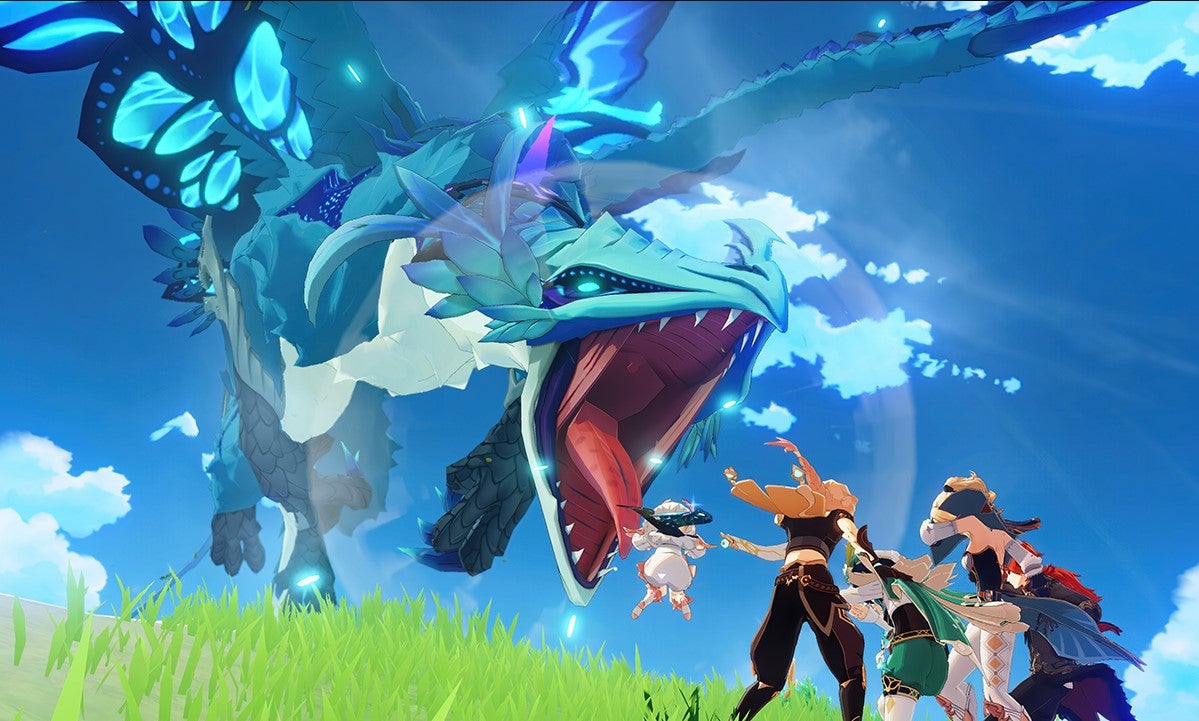 Genshin Impact is Chinese developer miHoYo's best answer to the question: what if Breath of the Wild, but anime? It plays a lot more like a single-player RPG than its online elements would suggest, and is free-to-play on PC, current-gen consoles, and iOS and Android - with a Switch version forthcoming.
While the framing of Genshin Impact's story does have more in common with an anime JRPG than an MMO, there are still some opaque systems which aren't best explained in an always online environment. On top of that, we've also seen many of the dreaded server and connection issues which plague just about every online game to ever launch.
We'll dig into a few of the more frequently asked questions we've seen around the internet, to save you as much frustrated Googling as possible.
Failed to check for Updates - Couldn't Verify Files - Genshin Impact won't launch
Unfortunately, there are a lot of connection issues currently affecting Genshin Impact. Hopefully they'll be resolved by the game's first full weekend, but there is very little official information available about what's going on behind the scenes.
One of the most common connection issues we've seen for Genshin Impact is the "Failed to check for Updates" error on the game launcher.
This problem has many related errors, all of which have the same effect: you can't play the game.
Many players have reported that deleting and reinstalling Genshin Impact doesn't seem to make a difference. However, there are a couple of fixes floating around on the game's official forums.
Launcher fixes
First, depending on your install location, it looks like Genshin Impact can have some trouble reading all of its game files.
Some PC players running two hard drives in their setup have found success by installing the game on their primary drive instead of a secondary one or vice versa.
If you're having trouble with the game launcher itself, try launching the game exe directly from where you installed it - eg. C:\Program Files\Genshin Impact\GenshinImpact.exe
Unfortunately, this doesn't help much if you're playing on Xbox One, PS4, or mobile. The cause of the problem seems to be the amount of people trying to download Genshin Impact at once, which means your only real option is to wait for miYoHo to fix the server capacity issues.
If you get the "Couldn't Verify Files" error, this apparently means your connection to the game's server was unstable when it was downloading (probably through no fault of your own). This means the game's files weren't downloaded properly, and your only option here is to redownload and try again.
Why is Genshin Impact's download speed slow?
Regardless of your usual download speed, many players have been reporting less than half a megabyte download speeds on all sorts of platforms.
This looks to be related to the server capacity problems that are causing issues with the launcher and game files, but is also due in part to how Genshin Impact interacts with antivirus firewalls.
There's a thread on the official forum on how to disable your firewall for Genshin Impact, which you can view here.
The method boils down to going into your "Windows Security" settings, clicking "Allow an app through firewall", then selecting Genshin Impact.
While this has reportedly increased the download speed for some players, we're talking an extra 1-2mbps. Although it's not a massive jump, it still quadruples some of the speeds we've seen.
Alternatively, some players have also reported that download speeds are being bottlenecked in certain regions. If you have a VPN, you can get around this by appearing to come from a different region.
Play with friends in Genshin Impact - Co-op/Multiplayer Unlock
MMOs are all about partying up with friends and guildmates to take on the toughest raids a game has to throw at you. But like we've said before, Genshin Impact is structured much more like a traditional RPG than an online game.
This means that the multiplayer unlocks much further into the game than you might think.
To play with friends in Genshin Impact, you need to reach Adventure Rank 16 on your account.
Once you reach Adventure Rank 16, you'll be able to join you friends' games and take on dungeons together. In the mean time, you can access the Friends Menu by summoning Paimon and add your friend's UID (the number in the bottom right corner of everyone's screen) from there.
Then once you reach Adventure Rank 16, the "Co-op Mode" option will appear in Paimon's pause menu. Inside the Co-op Mode menu, you'll be able to change your join permissions so anyone, or only players you approve can join your world after searching your UID. With the same menu you can search your friends' UIDs to join their worlds.
Adventure Rank is different to the Character Level that changes between the characters in your party. You advance your Adventure Rank by completing story quests, opening chests, and completing investigations and defeating mini-bosses in the Adventurer's Handbook.
If you're struggling with raising your Adventure Rank to 16, take a look at the bottom-left and top-right options on your menu wheel. This is where you'll find the lists of available quests and the Adventurer's Handbook. From here you can track them down in the open world.
How do Microtransactions work in Genshin Impact?
Even though it plays like a single-player RPG, Genshin Impact is still free-to-play, and is therefore supported by an in-game microtransaction economy.
Like many free-to-play games, the top end of these in-game purchases don't end up being all that micro - so it can be important to get an idea of what you're signing up for.
In Genshin Impact, you control a party of four characters, each wielding different kinds of weapons and elemental abilities.
On top of the characters and items you can collect by playing the game's story, you can make "Wishes" for rare and powerful companions and weaponry.
These are essentially loot boxes with a random assortment of items from a set loot table.
You can collect either 3, 4, or 5 star items and characters, with the following chances of each:
| Genshin Impact Wishes Odds: | |
| --- | --- |
| 3-Star Wish | 94.3% |
| 4-Star Wish | 5.1% |
| 5-Star Wish | 0.6% |
When making multiple Wishes, you can get duplicates of the same items. Along with the main item, a 3-Star Wish also nets you some Masterless Stardust, which is a different type of in-game currency which can be swapped with Paimon for items. You get Masterless Starglitter when you receive duplicate characters.
To make Wishes, you need "Fate" which can either be bought from Paimon's pause menu Shop with yet another in-game currency, "Primogem", or with the Starglitter or Stardust that you get from Wishes.
And to top things off, there's a final in-game currency: Crystals. These crystals are only available by spending real money and can be exchanged for packs of character and level up items.
They can also be exchanged for a blessing, which gives you 90 Primogem a day for 30 days. This costs either 300 crystals, or £4.49. You can buy multiple blessings, so this is how you spend real money on characters.
First you have to buy the blessing with real money or Crystals, and it'll eek out Primogem across the month for you to spend on Fate, which you can then spend on Wishes to get a chance at new characters. If it sounds complicated, that's because it is.
How does Cross platform play and progress work in Genshin Impact?
As with literally any game that isn't Fortnite, cross-platform play remains an issue for anything involving the PS4.
The official line is that players on PlayStation 4 won't be able to interact with others on different platforms, and your PS4 progress will also not carry over to any other platform.
However, if you play on PC and mobile you'll be able to link your miYoHo account to transfer your save file between those two platforms.