FFXIII-2 announced in Tokyo, to hit EU and US "next winter"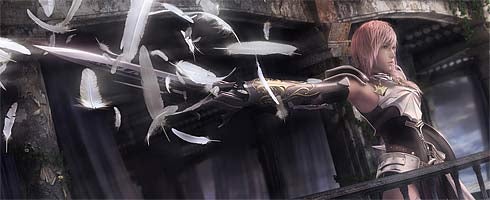 Square Enix Europe has just announced Final Fantasy XIII-2 will arrive "next winter" in the region following its announce this morning at the publisher's Japanese event.
SCEA has confirmed the same time-frame for an American release on the US PS Blog.
Square's also released a mock-up of what it expects to be the cover art for the game. Get that at RPG Site.
The game will also feature a " a battle system which has evolved further since XIII" as well as a new story following on from FFXIII.
Motomu Toriyama, director of FFXIII, will direct the game again. Yoshinori Kitase will most likely take on the producer role once again.
A new character was also shown alongside Lightning, as was a new logo, as seen above.
It'll be out in 2011 in Japan.
Last week, it was discovered that "finalfantasyxiii-2game.com" was registered by Square Enix.
But talk of a sequel began back in March 2010, when after FFXIII launched, Kitase and Toriyama admitted they'd be up for developing a sequel.
The trailer for FFXIII-2 will launch on Thursday on the game's official website here. We did post it below (thanks, DoubleM), but we've removed it at Square's request.
Get full details on everything else shown at the conference here.