Field hospitals, medics, and loo roll hoarders - the strange ways Fallout 76 players are reacting to COVID-19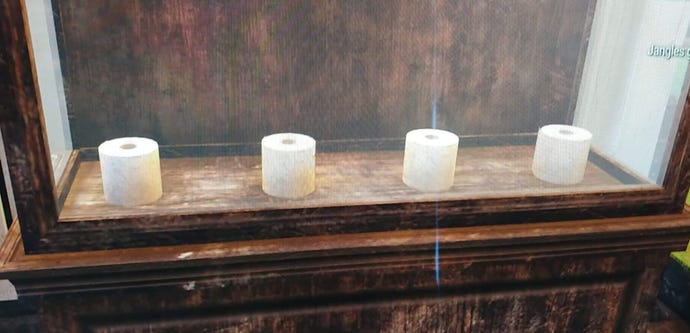 Bethesda's increasingly weird wasteland is starting to reflect real life.
MMOs offer a distorted lens through which to view reality. What happens in real life can filter down into online game worlds, whether that's a public holiday, celebrity memorial, or the worst pandemic in a century. Right now, in Fallout 76, current events are manifesting themselves in fascinating ways.
Take, for instance, a recently established group called the Responders Retaliation, which aims to supply those in need with vital medicine. While not an overt homage to the heroics of actual frontline healthcare workers currently risking their lives to treat patients, the parallels are clear, and the timing couldn't be better. Group co-founder VivaciousPassion says: "Those doctors have been doing a fabulous job of managing this outbreak and we're admirable of them. Our group does offer medical supplies, often free or extremely discounted compared to in-game economy prices."
In VivaciousPassion's experience, the influx of beginner players due to self-isolation measures has, in turn, produced more people wanting to take advantage. The rise in hostility has made altruistic acts like this hugely important. "I come across large amounts of low-level players, especially as of recently with the lockdowns in place around the world. If I come across low levels, I often give them a bag of medical supplies, and if they have a workbench, I'll craft them a few guns and mod them to the max to get them started."
While still growing, the group has had numerous success stories. On one occasion, a hostile faction wielding flamethrowers burned down a base belonging to one of the group's members, so Responders Retaliation banded together and helped rebuild it. If you're in need of assistance, just post on the group's page. Those wishing to join up can do so after a short onboarding interview process. It determines your skill set and cross-references your ID with scammer lists to check you're legit. In VivaciousPassion's words, "There's been a large number of scammers that have returned to try and steal from innocent players." Vigilance, it seems, is increasingly necessary.
Fallout 76's newly aggressive Wasteland - an effect you can link to higher player counts triggered by shelter-in-place measures - marks a change from its usually welcoming atmosphere. You might say it's temporarily reverting to expected norms. After all, Bethesda VP Pete Hines expressed shock over the general level of passivity early on, saying in a recent interview, "We were a little surprised how few people wanted to take part in PvP and how many more they were interested in PvE together. As opposed to, 'I want to test my mettle against you and let's get into a duel.'" Self-isolation changes that. It brings fresh players, and with that comes conflict as a minority of high-level ones target them.
Other Fallout 76 folk are finding creative inspiration in catastrophe. The Ginger Empire spent roughly six hours creating his very own COVID-19 field hospital, complete with well-stocked medical cabinets and ample bedspace in which the sick can recover. As a licensed practical nurse with ten years' experience, this is very much a passion project for the Wasteland regular: "I enjoy doing the C.A.M.P. builds for the channel and to upload, and this felt like an interesting one right now considering the events of the world as a whole."
#COVID19 vaccine queue (probably not)#Fallout76 #Fallout #bat #COVID #COVIDIOT #gif pic.twitter.com/FFh4X0gclJ

— Franklin_Payne (@Franklin_Payne_) April 6, 2020
C.A.M.P.s, or Construction and Assembly Mobile Platforms, are customisable settlements fashioned out of resources collected on your travels, and the pandemic has given rise to a multitude of themed builds. These range from humble collections of rehabilitation tents to multi-storey COVID-19 research facilities.
Stumbled across this camp in #Fallout76 ? #COVID19 pic.twitter.com/Pr8bjCXvNx

— Brandon Baker (@BrandMan_VIDEOS) April 6, 2020
For The Ginger Empire, however, there's poignancy in the undertaking. "I would volunteer, and have been asked to, however I'm unable to due to the wife being eight months' pregnant. Family for sure is my main priority right now. Any kind of contact with COVID-19 at this point in time would make me unable to attend the birth." Perhaps this build is a way to regain control in an uncontrollable situation. By offering an artistic outlet, Fallout 76 is helping players positively channel their concerns.
Those who want to can check out The Ginger Empire's C.A.M.P. on his YouTube channel. "I have not yet [opened it up] as I have been livestreaming other titles these past few days," says The Ginger Empire. "However, the field hospital is still assembled, and I plan to do a livestream on it in the near future for people to tour as they wish!"
While some create, others panic buy. Scores of Fallout 76 players are looting toilet rolls in a bizarre re-enacting of scenes found in supermarkets across the globe. Reasons for this are varied. Some want to showcase them in extravagant settlement displays, locking them in cabinets or hanging them off a mounted moose's horns. Others are selling them at exorbitant prices in shops, jacking up costs to gouge consumers. It's not unusual to see a single bit of bum tissue going for 25000 caps which is a markup of 2500%.
Now, hoarding in Fallout 76 isn't as big an issue as in real life. Unlike shelves in Tesco, items here respawn over time, providing players with an inexhaustible amount of dinner trays, clothes hangers, and other materials. If someone's selling at a ridiculous price, just look elsewhere. Rather, Fallout 76 players are using the game to parody, poking fun at the absurdity of toilet paper's new status as a hot commodity. Despite lacking much value in the game, it hasn't stopped the surge in demand, with some players even making toilet paper farming guides to help others get in on the mad undertaking. It's a classic case of art imitating life.
An influx of new players invariably changes the behaviour of current ones. Some turn into predators, others protectors. And, with Fallout 76 numbers growing, that's set to rise. According to population calculator Gamstat, the game received 52,000 new players on PS4 alone between March 5 and April 5. That's a huge number for an MMO that showed signs of slowing just several months after launching November 2018. And the game is currently experiencing another sharp uptick in PC users, having just launched on Steam. Then there's the fact Wastelanders, a new Fallout 76 expansion that adds NPCs, is launching soon.
As the pandemic continues, it's not just players who are re-evaluating their relationship with games, but developers too. The ongoing health crisis has seen many studios transition to home working. This is why the recent Wastelanders update, which adds voiced NPCs, dialogue choices, and a reputation system, was pushed back a week. Bethesda writes on Twitter: "For the safety of everyone, we have transitioned to remote work, and are limiting our in-person interactions. [Coronavirus] has changed the way we work, but rest assured that critical services for all our live games are fully operating."
In addition, Bethesda, like many MMO studios, is offering bonuses to keep players on board. From March 19 to March 23, players enjoyed both double XP to help them level-up faster, and a purveyor sale weekend, which saw legendary items go for a 25% scrip discount. "In light of the constantly shifting situation unfolding around the world," Bethesda writes on its official blog, "we would like to do what we can to help pack a little more punch into your weekend in case you're cooped up at home." Players can no doubt expect more of these incentives to keep them busy in the ever-shifting Wasteland.
Bethesda isn't alone in altering course due to Coronavirus. In Final Fantasy 14, Square Enix froze housing evictions. Ordinarily, if a house in the game hasn't been accessed for 45 days, in-game landlords automatically demolish it. However, in a statement put out on Square Enix's official site, the developer writes: "Taking into account the world-wide spread of the COVID-19 (also known as 'novel coronavirus') and the economical effects of various cities going into lock-down, we have decided to temporarily suspend automatic housing demolition." Benevolent landlords? These really are unprecedented times.
Looking at other Fallout games, in Fallout: New Vegas, a mod called Immersive Coronavirus gives players the dreaded disease. Created by JotunYmir and available to download on Nexus Mods, the description states that it "adds Bat Soup to the leveled list. Eating it will give you the Coronavirus." While there's an argument that mods like this are in bad taste, many people use black humour as a coping mechanism, de-arming trauma by laughing at it. Whatever the reaction to this pandemic, and whichever form it takes, there's no escaping it.
Reality reverberates through MMO communities, altering landscapes and fluctuating economies. It affects behaviour, inciting deviance and prompting acts of charity, and alters how developers deliver their service. The Coronavirus has changed our way of life, and right now, it's changing how many of us play games.