Fable III: Lionhead launches teaser site for smartphone game called Kingmaker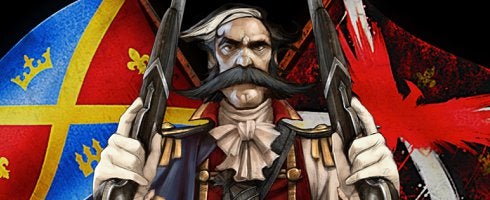 Lionhead has launched a teaser website for a Fable III smartphone game called Kingmaker.
Due for October 1, according to and advert in the latest Xbox World Magazine (via CVG), Kingmaker is described as follows:
"The kingdom of Albion is in turmoil. Two rival armies are fighting for total dominion: the tyrant king's Royals and the revolutionary Rebels. And now the battle has spilled onto the wretched streets of Great Britain! For this is where the wondrous world of Fable meets the real world. Where the battleground is your town, and your only weapon is your smartphone.

"Well, citizen. Your mission, should you be foolish enough to accept it, is to plant virtual flags for the Royals or the Rebels, and claim power-ups in locations throughout the United Kingdom... For every flag you plant, and every power up you claim, you shall earn gold coins, which you shall then be able to transfer into the Fable III game on your Xbox 360!"
Since all that bit is focused on Europe, we'll send a mail to Microsoft and see if it will hit over in the US as well.We don't see an American flag on the teaser site.
No extra details on what is meant by "smartphone" was mentioned, but we'll assume it's to be made available on iPhone and Android systems at the very least.
Fable III is out next month on Xbox 360, and you can check out the latest dev diary for it here.
Via Joystiq.