Dying Light: Bad Blood hands-on - battle royale, parkour and zombies collide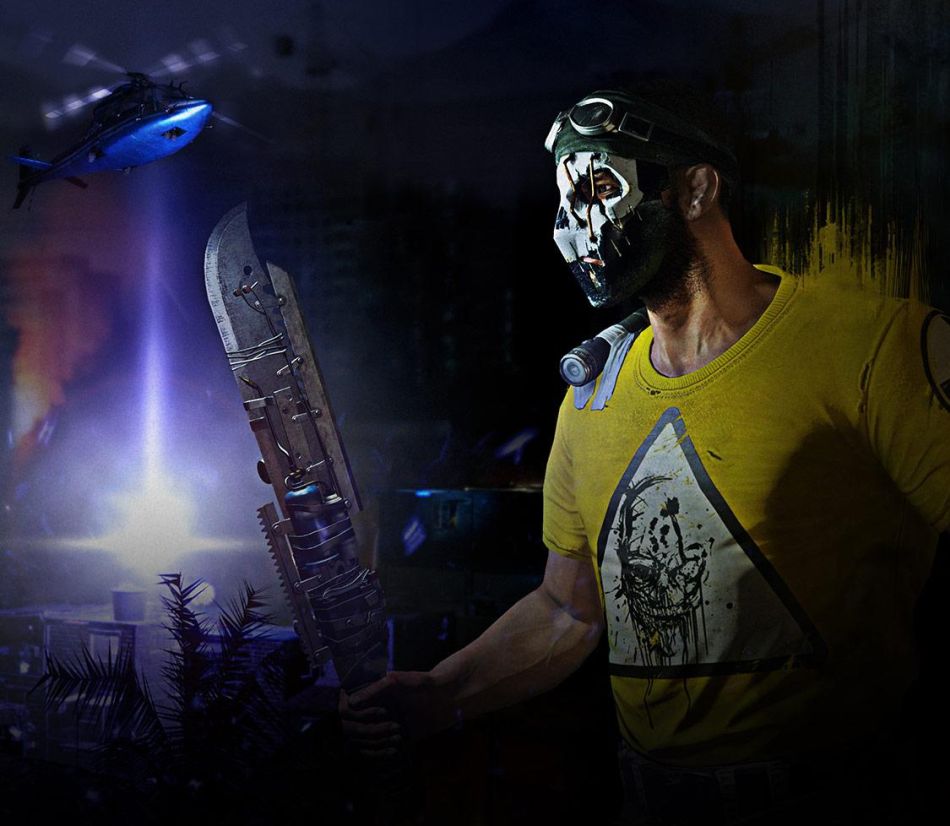 Another day, another Battle Royale addition to an existing game. But Dying Light's attempt at the genre seems like a smartly-designed, tightly-wound combination of that game's stand-out elements and the core concepts of this break-out genre.
Dying Light: Bad Blood is an interesting take, and is different enough from the main game that developer Techland seem confident enough to release it as a stand-alone project. It'd been previously announced, but at GDC we finally got a look at just how different it is.
For a start Bad Blood does away with the huge player counts of other games of its type, instead keeping things to a much more manageable six players. It's condensed, and in truth the Battle Royale term is likely being thrown around for marketing purposes, and you could pretty easily simply describe this as an exciting new multiplayer mode.
Inspiration has absolutely been drawn from PlayerUnknown's Battlegrounds and its peers, however. You're dropped onto an island via helicopter, then tasked with finding and upgrading equipment on-site in order to make yourself battle ready. Ultimately only one player will leave the island alive, so it's vital to find good gear, watch your back and loot the corpses of those you take down to stay ahead of the curve.
The spanner in the works here is that the island isn't just populated by other players, but also by a slew of Dying Light's zombies. They also form part of the objective: in order to escape the island, players need to collect zombie DNA samples by taking down various high-end boss zombies with unique abilities and fighting styles.
Once one player has collected enough zombie samples a chopper will arrive somewhere on the island, and it's up to that player to try to escape. The others will also no doubt descend on the same location, since at that point the only way to prevent a loss is to steal their DNA samples for yourself - thus Battle Royale. It's also introduced with fairly uninspired-feeling crunching guitar and gritty voice over, but none of that really matters.
It's a more active version of the genre, then - less about carefully moving through the environment and concealing your position and more about tearing from objective to objective in a frantic dash to take down the zombies and collect the samples you need.
Above screenshot from the original Dying Light, just for illustration.
Rather than being strictly about survival, Bad Blood is all about aggression. You want to be the fastest and most proactive player, racking up zombie kills and seeing off other players if you encounter them. Survival isn't good enough, since the end-game escape from the island objective is triggered by racking up kills and collecting loot. The limited number of objectives ensure players will run into each other, and in the rounds I play many of the deaths happened early on in rounds as players fought over precious resources.
It's an intriguing direction for this multiplayer mode, but the important take-away is that it works. While it doesn't have the high player counts, the threat of both zombies and real players combines with the race against time aspect to make for a thrilling experience.
Better still is how this rapid pace works with Dying Light's movement - a game full of parkour, where you basically only stop sprinting to smash a zombie's head in. It's appropriate that even in a take on Battle Royale you shouldn't be worrying about stealth or any sort of nuance - it's just about making the undead bleed. It's good shit.
There'll apparently be more built around this, of course, thus justifying it as a stand-alone expansion. There'll supposedly be more maps and different configurations of each map, plus unlockable gear like outfits, some of which will actually impact character stats and performance. Not much of that was plain to see in the demo, however.
The team seemed keen for feedback, too, so it seems they'll continue tweaking to get to a satisfying place, including an upcoming global playtest that fans can get in on. The ideas and the core concept seems pretty solid, though having map variety and tightening up some of the jankiness of animation will be key to bringing the game to where it needs to be.
Playing a couple of matches of Bad Blood seriously reinvigorated my interest in Dying Light in general, a game I enjoyed but ultimately fell away from after a while. I'm keen to see what else Bad Blood has on offer when it reaches final release later this year.