Destiny 2: Warmind takes place on Mars, tells the story of Ana Bray and Rasputin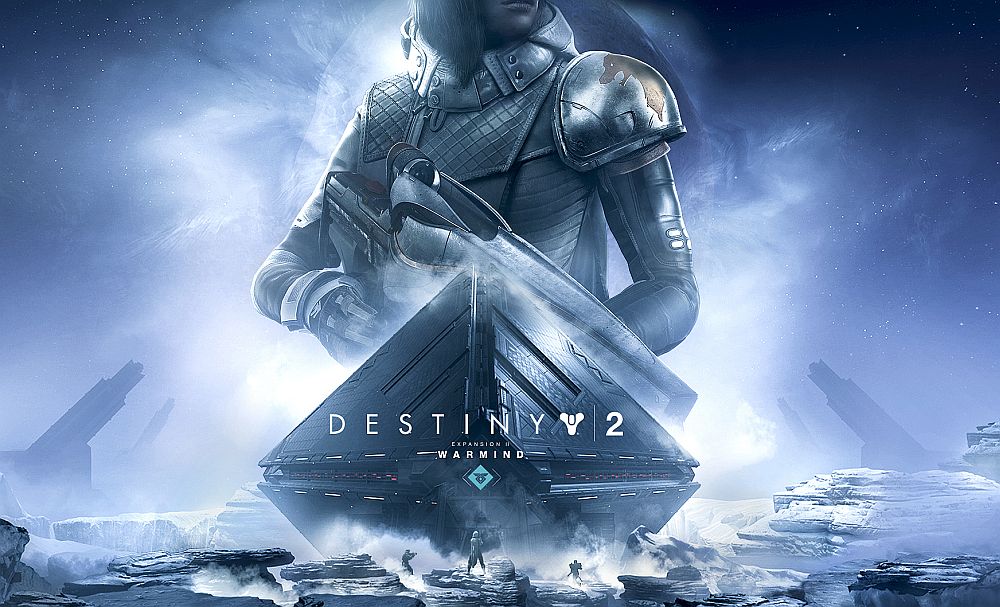 Bungie hosted a livestream for Destiny 2: Warmind today, discussing what to expect when it drops alongside Season 3 in May.
Players can expect Destiny 2: Warmind to include new activities, weapons, gear, endgame content and an all-new story.
Bungie said there will be plenty of content for new, returning, causal, and competitive players
The expansion will take players to the new destination, Hella Basin, set within the frozen pole of Mars. Along with traversing a cold landscape filled with glaciers, players will also explore rocky caverns and Hive infested caves.
Warmind also features the final Raid Lair of the Leviathan, the new Grasp of Nokris Hive Faction, and end-game ritual Escalation Protocol.
Here's the storyline:
Ana Bray, a Guardian long thought lost, searches for a connection to her past… one that could be hidden forever beneath the polar ice cap of Mars. As Golden Age satellites begin slamming back to ground, glaciers begin to thaw, revealing the core of the Warmind Rasputin – and an ancient Hive army bent on its destruction. Now free, the Hive swarm in service to their god.
The Warmind update will introduce many features the community has been asking for such as seasonal, ranked PvP and private Crucible matches. Crucible rewards will also change in Season 3, with two new emblems and an entire slew of new rewards, and there are two new maps – Solitude and Survival. These maps will require Warmind ownership in order to use in private matches.
Ranks were touched upon in the stream:Glory (competitive) and Valor (casual). Valor rank involves progression over time with no penalty for dropout, and Glory rank is much more difficult. It is attached only to competitive playlists, and progression is tied to results, so it improves if you win and decreases if you lose.
So, be sure and see how you fared on the competitive ladder on a weekly basis. The players who reach the higher ranks in Glory, such as Fabled, will receive a PvP exclusive weapon. The first one is Redrix's Claymore gun which includes the new Desperado perk. This increases the rate of fire without lowering impact. There will be one specific weapon to chase each season.
A previously reported, Season 3 will also change how Crucible is made available. Everyone will see new arenas in matchmade playlists like Quickplay, Competitive, Trials of the Nine, and Iron Banner. This will also include weekly rotations for Rumble and Mayhem, which was noted in a previous update from Bungie.
The endgame activity, Escalation Protocol, is basically a horde mode which acts similar to a public event. The difference though, is it can be activated by any player once they have finished the story campaign - similar to Destiny 1's Court of Oryx.
Escalation Protocol starts when activating a pillar that rises up out of the ground which draws the Hive in. The event plays out in seven waves, each with a boss fight, culminating in one final unique boss fight. There are five unique final bosses that will rotate each week in five-week rotations.
New items/tokens will be available which can be spun to get special weapons. These will be needed to complete the activity. Players will earn rewards that are specific to this activity, and it is "very challenging."
Season 3 and Warmind also brings to Destiny 2 the long-awaited multi-Emote feature. This will allow players to assign emotes to the D-pad.
Various weapon rewards were shown in the Destiny 2 livestream, along with a armor set featured around Rasputin. One new Relic weapon is called Valkyrie, and it's a "magical rocket launcher that destroys all." It is both a melee and a ranged weapon. Nice. This weapon will be used in Escalation Protocol.
Two new Strikes were also touched upon. Strange Terrain takes place in the caverns of Hella Basin and tasks players with bringing down the Hive Prince - Herald of Xol. He's trying to funnel power to the worm god. Stop him, guardians.
The other Strike is Will of the Thousands. Here is where the nifty javelin, Valkyrie, comes in handy. Players will be using it to defeat a "monstrous foe" attacking Rasputin's central network.
PlayStation 4 users will be able to participate in an exclusive Strike called The Insight Terminus. Here, they will invade an alien stronghold.
A new vendor location, the Clovis Bray facility, will also be available to players on their Mars adventure. This will be run by Ana Bray.
Finally, a new Raid Lair was announced, and it's the final part of the Leviathan Raid from Curse of Osiris. Called
Spire of Stars
, this Raid Lair will offer players "a great reward." It will release sometime after Warmind is live. As previously reported,
the update will also add Eater of Worlds Prestige
.
Destiny 2: Warmind Contents
In Warmind, players will journey to Mars, where Rasputin has awoken, setting off a system-wide chain of events. The polar ice caps are melting, uncovering a time capsule in Rasputin's birthplace. Warmind will introduce Ana Bray, a new hero that players will encounter. She will serve as the vendor and will allow players to learn more about Clovis Bray
All-new Raid Lair: Spire of Stars
The final Raid Lair for the Leviathan, this Raid Lair is one of the pinnacle activities in Warmind and offers players great reward.
All-new Endgame activity: Escalation Protocol
Escalation Protocol is a player triggered event where players will fight escalating waves of enemies and slay challenging bosses right alongside their friends.
New themed weapons, armor, and gear to earn
Destination themed armor with matching weapons, brand new and revamped exotics, and a powerful key moment relic will round out player arsenals.
Exotic weapons are being tweaked to improve the experience with each weapon – everything will be stronger, faster, and better. Most exotics have been leveled-up in areas such as damage, time-to-kill and rate of fire.
Play Solo or with Friends
Story Campaign – Delve into the story of Ana Bray, and Rasputin. Explore Hellas Basin Mars and stop the rise of the Hive army.
Strikes – Three-player cooperative matchmade missions in Destiny 2.
Raid Lair – A brand-new, six-player activity that takes place on the Leviathan. This Raid Lair offers new areas to explore, new encounters, new rewards, and a brand-new boss.
PlayStation 4 Exclusive Content
At launch, PlayStation users will receive access to a timed exclusive Strike called The Insight Terminus.
Zavala needs a team of Guardians to break into a Vex tomb on Nessus that has been overrun by the Cabal. Defeat the powerful Psion commander before he can take over the Vex gateway network and reap the rewards. This will also include an earnable timed exclusive Armor set for each class. Timed exclusive content until at least Fall 2018.
Destiny 2: Warmind will run you $19.99 or the regional equivalent when it releases on May 8.