Destiny 2: Beyond Light - Release date, pre-order bonuses, new Super, Raid and more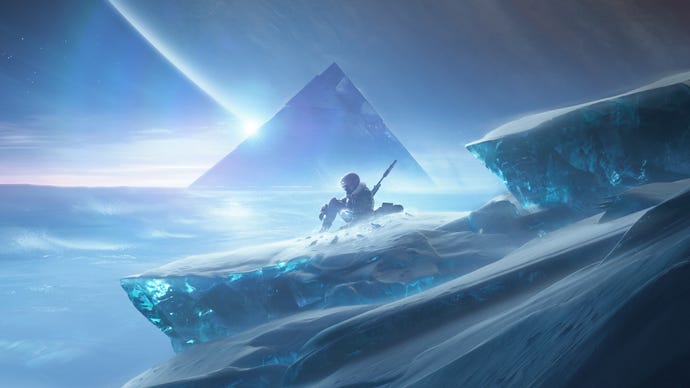 We finally got our first look at Destiny 2: Beyond Light, the new expansion coming later this year.
The first Pyramid arrives at Io's moon in Season of Arrivals and in Beyond Light, another will arrive at Europa, Jupiter's moon. A dark empire has amassed beneath the Pyramid and an unlikely trio are determined to face this new enemy together. Destiny 2 as we know it is about to change in new and unexpected ways with a new destination, more adventures and even new Supers to discover.
As this is a new expansion, there will be three editions available to pre-order that come with a range of goodies, as well as extra bonuses for Season Pass holders. With that in mind, let's take a look at everything we know about Beyond Light.
Destiny 2: Beyond Light - Release date
Destiny 2: Beyond Light has been delayed until November 10 for PC, Stadia, PS4, PS5, Xbox Series X and Xbox One.
If you purchase Destiny 2: Beyond Light on Xbox One, your game will transfer to the Xbox Series X for free via the Smart Delivery service. Purchases on PlayStation 4 will upgrade to PlayStation 5 for free. You'll also be able to transfer all previously owned content free of charge, including expansions.
Intergenerational cross-play will also be supported. More details about what's in store for Destiny 2 on future generations will be available soon, so check back for more info.
Destiny 2: Beyond Light - Pre-order bonuses
Players who pre-order the Standard Version of Beyond Light will get an Exotic Ghost shell and Legendary Emblem, whereas those who pre-order the Digital Deluxe and Collector's Editions will get a few extras.
Pre-orders are available on Steam, Stadia and Xbox One, and will be available on the PlayStation store soon.
Destiny 2: Beyond Light Digital Deluxe Edition
The Destiny 2: Beyond Light Digital Deluxe Edition will be available to pre-order on all platforms. The Stranger Edition is the only way for fans to access an exclusive 10" statue of The Stranger, sold with purchase of a physical version of Deluxe Edition at select retailers worldwide.
Destiny 2: Beyond Light Expansion + Full Year of Seasonal Content
With pre-order: Exotic Rimed Ghost Shell and Legendary Emblem
Freeze Tag Exotic Emote
No Time to Explain Exotic Pulse Rifle with Exotic Catalyst and Ornament
Any Other Sky Exotic Sparrow
Destiny 2: Beyond Light Collector's Edition
The Destiny 2: Beyond Light Collector's Edition will only be available from the Bungie Store:
Beyond Light Digital Deluxe Edition (digital code only)
Die-Cast Splinter of Darkness Replica with lights
Europa Explorer's Bag
Europa Exploration Canteen
Mysterious Logbook
Plus other discoveries from Europa
Destiny 2: Beyond Light - New Super
The last time we had a real update to Super was in Forsaken, but in Beyond Light, players will be able to unlock a new power: Stasis. This power is firmly rooted in the Darkness and each class will use the Super in different ways. More details about Statis will emerge during Season of Arrivals, so be sure to check back for more info soon.
Eris, the Stranger and Drifter all have an affiliation with the Darkness, so one of them will likely teach you how to wield it.
Destiny 2: Beyond Light - New Raid, The Rise of Eramis and Europa
We'll finally get to explore the arctic wastelands of Europa in Beyond Light and you'll be tasked with infiltrating the Golden Age Braytech facility. There are some dark secrets hidden below the ice and you'll be teaming up with the Drifter, Eris and the Stranger to uncover them.
Alongside this new storyline, there's also a new Raid that takes place in the Deep Stone Crypt. You'll fight as a team of six through this new puzzle to get some exciting new rewards.
If all that wasn't exciting enough, you'll also be up against the Fallen Kell of Darkness, Eramis. After being abandoned by the Traveller and the Light, Eramis is on a scary journey into the Darkness and she'll be making your Guardian's life hell. Throughout the Beyond Light expansion, you'll learn more about the Pyramids, the Darkness and what this all means, with challenging new activities to complete and enemies to face.
Older weapons will also start to be retired as new, powerful weapons are released to shake things up a bit. All previous seasons will become available in Season 12 meaning that you won't get the FOMO about any gear you missed.
Transmogrification will also arrive at some point during Year 4. The feature allows players to turn any of the armour they own into ornaments that can change the look of other armour pieces, similar to ornaments bought and earned in the game. Players will have the option to use the paid currency, Silver, or other currencies earned in-game to do this.
There's still a few months to go before we can head to Europa, so in the meantime, you can check out the Season of Arrivals roadmap here. We also got a look at the titles of the next two expansions, The Witch Queen and Lightfall, which represent the new era of Destiny 2. This means that Destiny 3 is somewhat off the table for now and instead will remove old content into a vault to make room for new content.
Destiny content can also be added more easily, with different content being unvaulted each year. Cosmodrome will also make a comeback this year as a destination and the Vault of Glass raid will return in Year 4.