Complete your Super Mario Advance collection on Switch with these three additional titles
Hot town summer in the city, more Mario Advanced on Nintendo Switchy.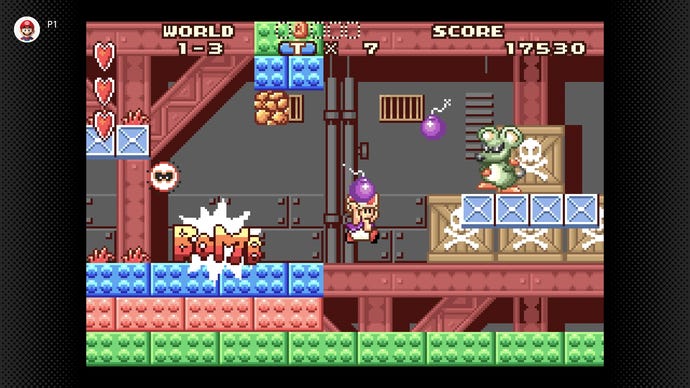 Additional Mario Advance titles are now available to Nintendo Switch Online + Expansion Pack members.
These three titles complete the Super Mario Advance series on Switch, joining the already available Super Mario Advance 4: Super Mario Bros. 3.
The three new games are Super Mario Advance, Super Mario World: Super Mario Advance 2, and Yoshi's Island: Super Mario Advance 3.
If you are unfamiliar with the Game Boy Advance titles, here's some information on each:
In Super Mario Advance, you throw vegetables and other items at enemies with Mario, Luigi, Peach, and Toad. This is a more "powered-up: version of the NES Super Mario Bros. 2 game. Each character has distinct abilities. Luigi, for instance, jumps the highest, Peach can hover over obstacles, Toad can grab items faster, and Mario is your all-arounder. This version of Super Mario Bros. 2 also features added surprises to discover, and challenges, such as one featuring Yoshi.
Super Mario World: Super Mario Advance 2 finds Bowser taking over Dinosaur Island, and it is Mario, Luigi, and Yoshi to thwart him. The game features every level, secret, and Power-Up from the Super NES Super Mario World, plus additional features and surprises. It also includes the option to play the entire adventure as Luigi with his Super Mario Advance abilities.
Yoshi is back in the third addition to the library in Yoshi's Island: Super Mario Advance 3. Prepare to face giant bosses, find secrets, and battle enemies in this version of the Super NES classic that first introduced Baby Mario. There are plenty of multicolored Yoshi running around, and you will be tasked with saving the infant Mario brothers from Magikoopa Kamek.
These additional titles have been added to the growing library of classic NES, Super NES, and Game Boy games. Nintendo Switch Online + Expansion Pack provides access to a library of classic Nintendo 64, SEGA Genesis, and Game Boy Advance games with added online play. The paid membership also grants access to Animal Crossing: New Horizons - Happy Home Paradise, Mario Kart 8 Deluxe – Booster Course Pass, and Splatoon 2: Octo Expansion DLC at no extra cost.