Castlevania's Gabriel started off as a barbarian, says Cox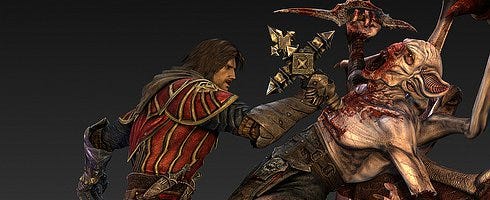 Castlevania: Lords of Shadow producer David Cox has said the main character in the game, Gabriel, was originally a barbarian until Hideo Kojima told him he needed to re-think the character a bit.
Speaking in an interview with Joystiq, Cox said Kojima compared the original Gabriel to a "meathead" that "nobody can identify with".
"I designed [Gabriel] very much as a barbarian, much like the original Castlevania character," said Cox. "I went to Tokyo and met with Kojima and he told me to look at Gabriel again. I told him that I'm really happy with the design. He told me, 'No, you really need to rethink Gabriel.'
"He told me that 'We designed Snake, and we were tweaking Snake right until the final submission. Little things: eyebrows, eye color, anything. You need to make sure that you're continuously looking at Gabriel as a main character. If you're trying to tell this tragic story of love, but you have this meathead character that nobody can identify with ... '.
"So that made us go back and rethink Gabriel, and I'm so glad he did that. I don't think the game would be the game it is now if we didn't rethink Gabriel as a character. I think now he's far more appealing right now, far more nuanced -- he's not a one-dimensional action hero anymore. He's a real character, a real person.
"At no point in the game does he say, 'I'm going to kick your ass' or anything like that. He's very much a real person. It's a sad story, and Robert [Carlyle's] portrayal of Gabriel really helps bring that character alive."
Cox goes on to say the team originally wanted Gerard Butler to be Gabriel, but he was "very busy at the time so he couldn't do it". Someone suggested Robert Carlyle, so they approached him with the script and he loved it.
Patrick Stewart was obviously fond of the script as well, as he's in the game too, along with Jason Isaacs, and the lovely Natascha McElhone.
If you are interested in getting to know Gabriel a bit more, check out the US PS Blog, where David Cox chats about designing the character a bit more.
Lords of Shadow releases for PS3 and Xbox 360 on October 5 in the US and October 7 in Europe.
A demo for it is up on PSN for Plus members.