Castlevania Mirror of Fate 3DS demo dated, full game hitting eShop at launch
Castlevania: Lords of Shadow: Mirror of Fate will receive a demo in February, publisher Konami has confirmed. The game will also release digitally on launch day March 8th.
Konami confirmed the demo and full download on Twitter this morning, after Nintendo announced the news yesterday during its latest Nintendo Direct.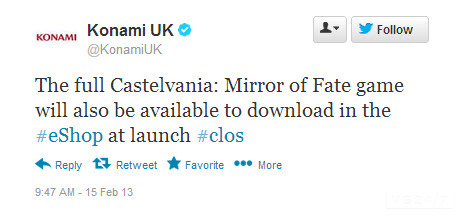 Excited? Check out my hands-on impressions of Mirror of Fate's first three hours here. It's like God of War 2.5D which shouldn't work, but it really does.