BioWare has "tricks up its sleeve" for Mass Effect 3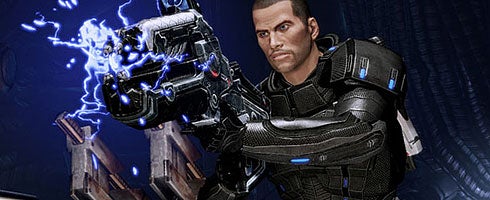 The good doctors at BioWare, Greg Zeschuk and Ray Muzyka, sat down with UGO at GDC and chatted a bit about what gamers can expect in the third-installment of Mass Effect.
According to what they told Tracy John, the developers may have a few trick up their sleeves.
"We've got some tricks up our sleeves," said Muzyka. "We have new tricks".
"It's also flexible, too," added Zeschuk. "A lot of the features in Mass Effect 2 came directly from player feedback, and we totally changed what we were planning to build because of that feedback. So we knew we had to make it awesome, and we're going to change some of the features and some of the approaches we thought we were going to take from ME1 to ME2.
"We focused a lot more on action, and it really amped the shooter aspects of this game. It's a stand-alone experience, so you don't have to play Mass Effect 1. It's a great shooter. You can play it as a shooter. It's a deep, rich shooter with a lot of customization options, exploration and story that just make the experience that much richer. But it's a shooter at its core, and that's the way the combat unfolds".
"There will definitely be things that we tweak and modify but in some ways, I think Mass 2 was closer to the original vision we had anyway," said Muzyka. "Mass 1 was more in the traditional BioWare game sense where Mass 2 was a bit more evolved game.
"I don't think Mass 3 will be as revolutionary when we really streamlined the experience, but what we're going to do is refine it and make it even better.
"We are just trying to make our games better. We are humble as a group, and we are still going to refine and endure. It's going to be highly refined. When you think of it, I think the shooting experience is better. I think we could actually take it from that same difference of improvement in the next one. That's actually one of the really exciting things. Creating a shooting game is actually a craft like creating an RPG game. That's now our second shooter so Mass 2 will be like our third. So every time we do that we get better and better, so I think that's going to be one of the really exciting stuff.
"I think people are going to be really surprised at how slick it is".
The Firewalker DLC will be released next week on March 23, and Kasumi's Stolen Memory is slated for April 6.