Bethesda Was "Surprised How Few People Wanted to Take Part in PvP" in Fallout 76
Pete Hines says the team wants to keep building upon the Wastelanders update.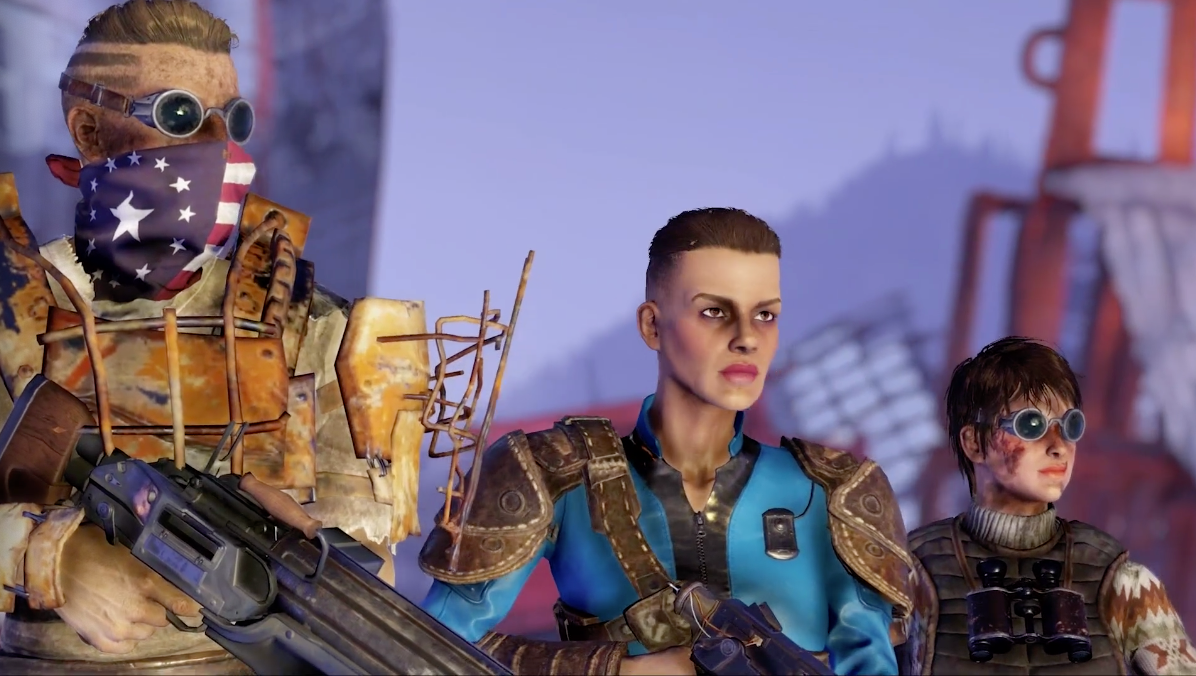 This article first appeared on USgamer, a partner publication of VG247. Some content, such as this article, has been migrated to VG247 for posterity after USgamer's closure - but it has not been edited or further vetted by the VG247 team.
On April 7, Fallout 76 becomes a proper Fallout game. That date marks the release of Fallout 76: Wastelanders, a free expansion for the existing PC, Xbox One, and PS4 release. The expansion adds human NPCs, reputation systems, dialog trees, and single-player instances. Basically, everything you love about Fallout.
Fallout 76 was a different swing for the brand, one that looks misaimed in hindsight. According to Bethesda senior vice president of global marketing & communications Pete Hines, the team admits that they misunderstood their audience.
"Well, I mean at the end of the day, our intention was always, we're going to put this out there, see what folks think, and then cater the stuff that we do later to their reaction. So, for example, I think we were a little surprised how few people wanted to take part in PvP and how many more they were interested in PvE together. As opposed to, 'I want to test my mettle against you and let's get into a duel.' There's some folks who do, don't get me wrong, but I think it's a smaller percentage of our player base than we thought," said Hines.
Wastelanders is the first step in really making Fallout 76 into the experience that some players expect when they see the name "Fallout." Like the extensive work done on The Elder Scrolls Online, Bethesda is committed to improving Fallout 76 and delivering what the community wants.
Hines also wanted to let the community know that Wastelanders isn't the final step. Instead, it's just the beginning of support and ongoing content for Fallout 76. "We're going down this path. It's not that we're doing this and we're done. They've done a lot of work on a systems level to make things possible in Wastelanders that they want to build on and use for more content that we're going to be doing the rest of this year and into next year and beyond."
What future content is in development? The team isn't currently talking about what happens after Wastelanders, but they aren't swinging blindly either.
"We have a plan. We have a roadmap that we'll be sharing before too long, probably after Wastelanders," said Hines. "Let's get through Wastelanders and then talk about that. That will cover all the way through the end of this year. We've already been talking about, internally, what is our plan for content into next year. When we feel confident enough to share that with everybody, I'm not certain, but like, we throw it out pretty far."
Fallout 76: Wastelander is coming to PC, Xbox One, and PS4 on April 7, with an additional launch of Fallout 76 on Steam on the same date. We here at USgamer will have a more extensive interview with Hines in the near future.