Best Xbox One and PS4 games deals out right now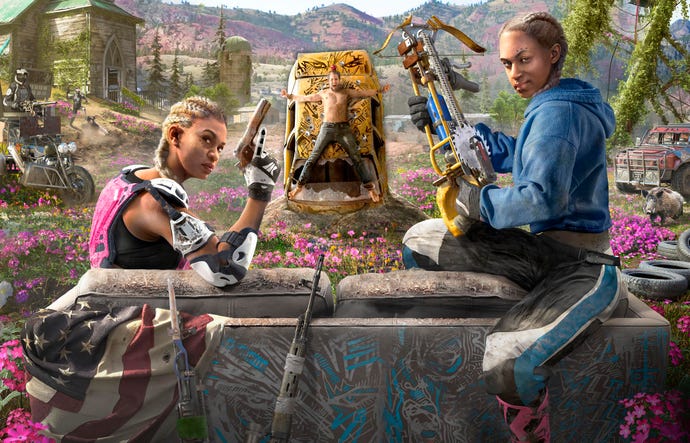 It's February, and although not traditionally the habitat for deals, they are thriving none the less. Stick with us to see the best Xbox One and games discounts around right now, with plenty of top-notch titles going for under £20, and even a few for below a fiver.

First up, the cheapest place you can grab hypnotically lurid apocalyptic shooter Far Cry New Dawn is Base, where it's going for £30.85 on both platforms.
As well as the usual ultra-violent carnage we associate with the series, I was delighted to find a quest involving both adorable doggos and South African hip-hop. Also, it's gorgeous, such a relief from the usual grey and pallid shooters doing the rounds.
In a not too dissimilar vein, delightfully OTT explode-em-up Just Cause 4 is down to £22.85 on the PlayStation 4 at Base. Go on, you can punch that tornado, we promise.
Epic adventure The Pillars of The Earth, which follows both the fluctuating fortunes of a family and the construction of a cathedral, is down to only £6.99 on Xbox One at Base.
Following on from the apocalyptic theme, Mad Max on Xbox One has also been reduced slightly at Base, where it's £12.49 on Xbox One. It's effectively based on the Warner Brosfilm remake, which featured frenetic action with a dash of feminism.
It essentially involves mad open-world vehicular combat and survival in the desert - which as you'd expect is full of savage psychopaths and endless fire. Mad Max also comes with the Eurogamer seal of approval.
Although not the most gigantic of discounts, grab interactive horror adventure Until Dawn for a new lower price of £12.95 on PlayStation 4 over at Base. If you love horror, grisly deaths and strange folklore, this is the one for you.
It follows a group of young folks on a ridiculously doomed gathering in the icy mountains. I managed to keep a paltry three folks alive at the end last time I did a run, out of a potential eight. It's grim, thrilling and wonderful to play with a friend or two.
Time to Fight! Tekken 7 is down to a reasonable £13.99 on Xbox One at Base, and £18.85 on PlayStation 4, and as you'd expect, includes tons of beat-em-up madness, and an entirely nonensesical story-line involving demons and corporations set in a corny dystopia where business issues are solved by fighting tournaments. It's just fabulous. Watch out for surprise laser eyes.
Amass a fortune raising Slime on a distant planet in Slime Rancher - down to £14.99 at the eBay Argos outlet , with £2.99 delivery or free in-store collection. Lets not forget, Slime is of the essence folks.
Next up, we have an adaption from the legendary 2000 AD comics(which spawned Judge Dredd among a host of other blackly hilarious tales) tactical shooted Rogue Trooper Redux is £7.99 at GAME, its lowest price online .
You can also blast demons into space in an explosion of fire, blood and heavy metal with DOOM 4, currently going for under £5 on PlayStation 4 over at The Game Collection. You can also nab Doom VRF on PlayStation VR for £12.85 at Base, the lowest you'll find it anywhere.
Lastly, we have a fabulous double pack: legendary platformers Inside and Limbo on PlayStation 4 for £13.85 at Base, not the hugest discount, but if you haven't played these haunting and gorgeous titles, you're missing out!
You will probably need more space to accommodate the staggering array of games you will be buying mere moments from now. Check out our PlayStation 4 external hard drive and Xbox One hard drive guides for the finest deals. Happy deals hunting one and all!