Battlefield 1943 to release next week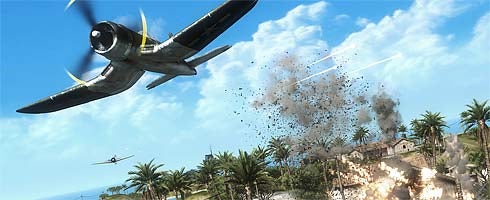 EA's confirmed that Battlefield 1943 will release on July 8 for 360 and the day after for PS3.
The shooter - rated at 9/10 in the latest Edge - will set you back £10/1200MSP.
Which is probably great news. PR after the break.
FIGHT ON LAND, SEA OR AIR IN BATTLEFIELD 1943 ON JULY 9
Kick off the summer with the must-have downloadable game for only £9.99/1200 MS Points
Guildford, UK – July 2, 2009 – DICE, an Electronic Arts Inc. studio (NASDAQ: ERTS), today announced that Battlefield 1943™ will be available on July 8th on Xbox LIVE™ Marketplace and July 9th on the PlayStation®Network. Battlefield 1943 is an all-new download-only action game that brings DICE's first-class vehicular warfare to gamers for just £9.99, or 1200 MS Points.
Battlefield 1943 is a critically acclaimed First-Person Shooter (FPS) multiplayer game that puts players in the middle of a dogfight on land, sea or in the skies. The game introduces two thrilling new modes that can be played across four classic Battlefield tropical WWII maps: Wake Island, Guadalcanal, Iwo Jima and Coral Sea. These maps are inspired by the award winning Battlefield 1942™ game, but have been redesigned and reengineered using the DICE destructible Frostbite™ engine which takes down walls, blockades and cover spots, leaving players with almost nowhere to hide. The game delivers endless hours of social online gameplay for extraordinary value.
The Coral Sea map will be unlocked as part of a worldwide community challenge, where players will work together to reach 43million kills on both Xbox LIVE and the PlayStation Network. To help gamers reach that goal, up to 24 players can play together online in countless matches. They will have the freedom to compete by land, air and sea as either the US Marines or the Imperial Japanese Navy. Whether they choose to play the role of a rifleman crawling through the trenches, a steel-fisted tank commander, or a dog fighting ace pilot, gamers will have the power to rule the battlefield.
"Battlefield 1943 is going to change consumer expectations of what a downloadable game can be. By offering Frostbite's next generation destruction technology with a full Vehicle Warfare FPS multiplayer experience at a mere 560MB, Battlefield 1943 sets a new standard," said Gordon Van Dyke, Producer on Battlefield 1943. "Our goal is to blow people away with a fully accessible, retail-calibre game for veteran Battlefield fans and shooter fans alike to enjoy for only £9.99."
For more information, go to www.eagames.co.uk or www.battlefield.com/1943. Or follow us on Twitter at http://twitter.com/OfficialBF1943.