Assassin's Creed: Unity guide - Sequence 7 Memory 3: Confrontation - Bellec Boss Fight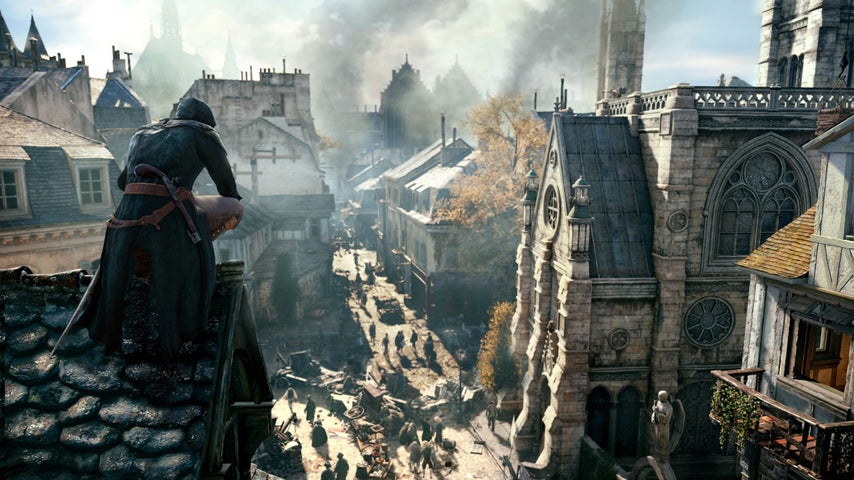 Defeat Bellec, your one-time mentor turned murderer and traitor.
Assassin's Creed: Unity guide - Sequence 7 Memory 3: Confrontation - Bellec Boss Fight
If you have enough points and haven't yet purchased it, you need to unlock staggering strikes from the Skills section of the Character Customisation menu immediately - just pause the game as soon as you have control, as it's not accessible once the fight starts. It's easy not to get knocked down if you have a powerful enough weapon - just don't attack Bellec after you've knocked him to the ground, and you should be fine. Upgrade your primary melee weapon as high as you can go before starting this fight, and you'll be laughing.
Challenges
Use staggering strike five times
Don't get knocked down
Investigate the Trail
Use Eagle Vision to follow the trail and track down the killer; you'll end up at Sainte-Chappelle, the church in which you found the entrance to the Assassin HQ.
Find the Murderer
The updated objective indicates you should continue on your way into the building; keep following the trail to reach a balcony.
Confront Bellec
As the title rather gave away, Bellec was behind the whole plot. You may have mixed feelings about taking him down, but he's got none for you.
This isn't a very challenging fight, and if your gear is of a decent level it won't even take very long. The first thing you should do it hit Bellec with a staggering strike (hold down the dodge button after unlocking the skill in the Character Customisation menu), and then do it again so he falls helpless onto the ground. This is very important: do not try to attack him while he's knocked down - he'll smack you to the floor and you'll fail the second challenge.
After you've totted up five staggering strikes, you don't need any fancy tools or tricks. Just use perfect parries then hit Bellec a few times; rinse and repeat for victory. If you see him drop a shoulder and move to charge, dodge - but if your sword is powerful enough, he won't even last one round of attacks, so there won't be any need for it.
You'll have to bash Bellec up three times, and between each set of bashing there'll be a little quick time event - just hammer the interact button - and a cutscene. Bellec gets tougher each time, so use smoke bombs in later stages to quieten him down if you struggle.
The fourth round occurs after the objective update, and it's a doozy.
Kill Bellec
In this round, Bellec will use his own smoke bombs on you, and then appear suddenly to one-hit kill you. If Bellec vanishes, listen carefully - when Elise calls out to you, instantly dodge and you'll be fine.
I didn't even see Bellec's smoke bomb on my second go at this fight, because I killed him with one set of perfect parry and combo, but if the fight is drawing out and if you have any smoke bombs left, follow Bellec's cue and even the score a bit.
At the end of the fight you have to approach Bellec and press the assassinate button. I'm sorry.