Assassin's Creed: Unity has not one, but four different pre-order bonuses
Continuing Ubisoft's trend of auctioning off a piece of in-game content to each retailer, Assassin's Creed: Unity has four pre-order bonuses, one per retailer.
Amazon, GameStop, Walmart and Best Buy are the four retailers that are getting their own, exclusive, in-game items.
Amazon - Pioneer Axe, "a battleaxe like no other."
GameStop - Razorhead Spear, "no armour is safe."
Walmart - Maple Hunting Rifle, "they'll never see it coming."
Best Buy - Under/Over Pistol, "shoot twice, ask questions later."
In addition, all pre-orders will come with "The Chemical Revolution" in-game mission along with a code for the 'spin-to-win' sweepstakes. A real-world sweepstakes game where you can win games, merchandise, a trip to Paris or Ubisoft Montreal.
Ubisoft has also revealed the Collector's Edition, it's priced $130 and includes a 16-inch figure of Arno, a music box that plays the main theme, official soundtrack, an art book, the Collector's Edition box and the Killed by Science and The Chemical Revolution missions.
Have a look at the Collector's Edition and the each retailer's pre-order bonus in the gallery below: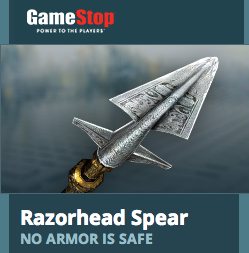 The game will be released on Xbox One, PlayStation 4 and PC October 28.
Thanks, Gamespot.