Anthem Producer: Mass Effect: Andromeda Never Had a Good Foundation to Support Long-Term Plans
Anthem's post-launch content is baked into the game's DNA.

This article first appeared on USgamer, a partner publication of VG247. Some content, such as this article, has been migrated to VG247 for posterity after USgamer's closure - but it has not been edited or further vetted by the VG247 team.
At PAX West, the team from BioWare held a panel that went in-depth into Anthem's single-player experience. But Anthem being a live-service game means that the full Anthem experience will differ from what BioWare fans might previously be used to. There are some questions about what we can expect out of the box at launch, but the live nature means that what comes in the box is just the start.
"I feel that there is a good, valuable game that you're getting for 60 dollars–or for whatever a game cost these days–at launch that is worth the money," says Anthem executive producer Mark Darrah. "You would be able to play for months and months. Even if we weren't then layering a live service on top of it. So, I think it's an excellent value right off the start. You know, four Exosuits, a complete story. So, both I think it's a complete package but it's also the starting line of an experience as well."
And because it's a live service game, post-launch content will be released at a regular clip. Something Anthem lead producer Mike Gamble says is "the big thing" about Anthem.
"We don't have to wait for full expansions anymore like our previous games, let alone other games in the [live service] space," says Gamble. "If you look at Dragon Age or Mass Effect you'd have to wait three, four, five, six months sometimes between big updates. We don't have to abide by that anymore. We can actually, week-over-week, trickle out content."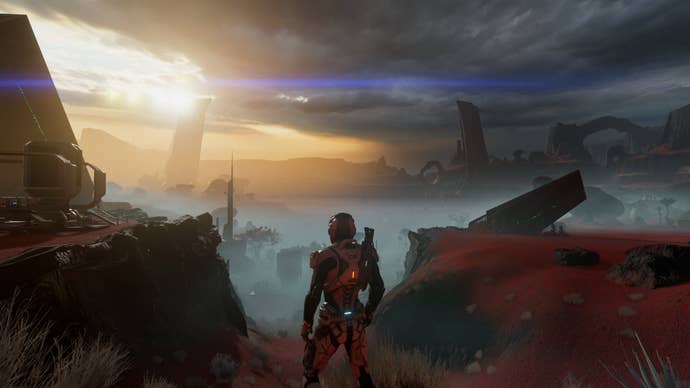 Which is good because the last game Gamble mentioned, Mass Effect, had a pretty dramatic post-launch for its last entry. Mass Effect: Andromeda, if you recall, saw its post-launch DLC plans scuttled in the wake of poor sales and mixed critical reception. But since Anthem is a live service, post-launch content is baked into the design, and won't face any similar drama since Anthem, as a live service game, erases the line between launch and post-launch.
"I can speak conclusively when it comes to Andromeda, the [post-launch] plans were never in place the way that they are for Anthem," revealed Gamble. "The systems and tools weren't in place to support the long-term plans, it was never like [Anthem]—never had a good, solid foundation to start from with that. Where with Anthem [post-launch] is a part of it. The job does not end on February 22. It only begins for us, really."
We'll have a complete interview with Mark and Mike going up later today where we discuss all the details behind Anthem's single-player mode, and how the shared world affects (or maybe doesn't?) the story players will encounter in BioWare's ambitious live service game.
In the meantime, Anthem is out on February 22, 2019 for PS4, Xbox One, and PC. Check out our complete Anthem guide for previews, trailers, and news.
Disclosure: USgamer is owned and operated by ReedPop, which also runs the PAX family of shows.