Alice Cooper, Runaways, The White Stripes and more added to Warriors of Rock disc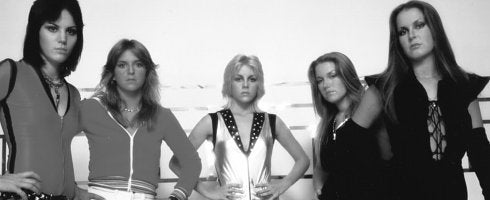 Activision has announced two exclusive re-records and and additional 20 titles for Guitar Hero: Warriors of Rock.
Alice Cooper and The Runaways went back into the studio to re-record "No More Mr. Nice Guy" and "Cherry Bomb," respectively.
In addition to these re-records, here's the list of the other 20 tracks:
Alter Bridge - "Ties That Bind"
Atreyu - "Ravenous"
Bad Brains - "Re-Ignition (Live)"
Blue Oyster Cult - "Burning For You"
Bush - "Machinehead"
Deep Purple - "Burn"
Edgar Winter - "Free Ride"
Five Finger Death Punch - "Hard To See"
George Thorogood and The Destroyers - "Move It On Over (Live)"
Lynyrd Skynyrd - "Call Me The Breeze (Live)"
Pantera - "I'm Broken"
Poison - "Unskinny Bop"
The Ramones - "Theme From Spiderman"
Rise Against - "Savior"
Steve Vai - "Speeding"
Strung Out - "Calling"
Styx - "Renegade"
Sum 41 - "Motivation"
Them Crooked Vultures - "Scumbag Blues"
The White Stripes - "Seven Nation Army"
These tracks are in addition to what has already been announced, and the disc will release with over 90 songs in total.
Warrior's of Rock is out in the fall, and you can get an audio sampling of the songs over on Amazon.