A Doom Crossover Would Be up to Nintendo, but id Sure Loves Those Animal Crossing Memes
Executive Producer Marty Stratton talks id Software's relationship with Nintendo, the state of Doom Eternal's Switch port, and more at PAX East 2020.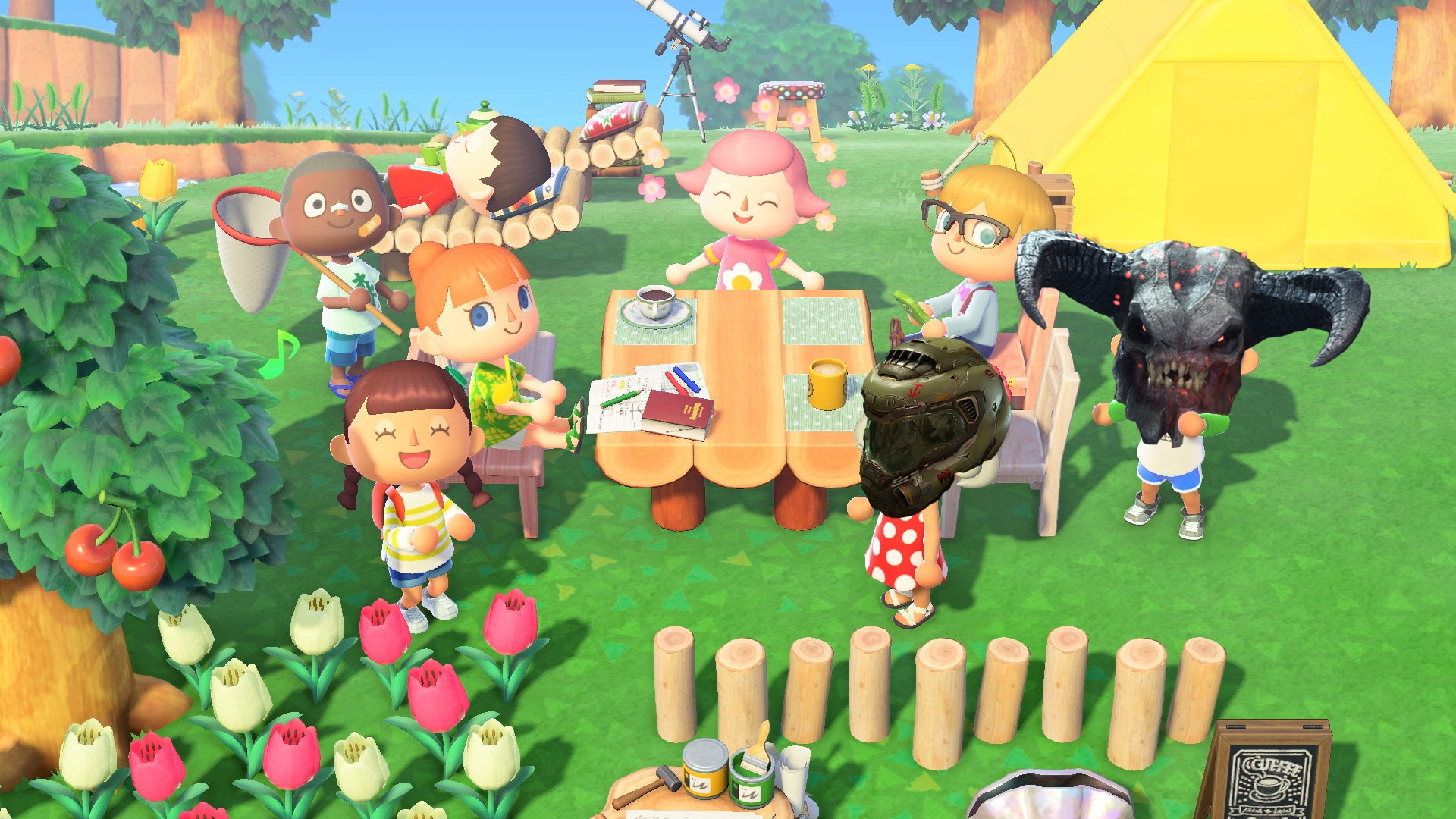 This article first appeared on USgamer, a partner publication of VG247. Some content, such as this article, has been migrated to VG247 for posterity after USgamer's closure - but it has not been edited or further vetted by the VG247 team.
Doom Eternal's release is nearly upon us, and Marty Stratton is still ripping and tearing through interviews. Members of the press got a lot of hands-on time with Eternal last month, including us, and we're now only a few weeks out from its release. Developer id Software is packing so much into the game that Stratton, executive producer and co-director, still has plenty to talk about.
One thing Stratton's been asked about is the version of Doom Eternal that isn't launching imminently: the version for the Nintendo Switch. Earlier this year, id confirmed the Switch version would still come a little later than the others, even after Eternal's debut was pushed back to March 20, 2020.
USgamer got the opportunity to talk with Stratton at PAX East 2020 during Bethesda's Game Days event on Friday, and our discussion of the Switch didn't begin and end with Doom Eternal. We also talked about id's relationship with Nintendo, those pesky rumors about the Doom Slayer guesting in Super Smash Bros. Ultimate, and the recent outpouring of crossover memes from the Doom and Animal Crossing communities.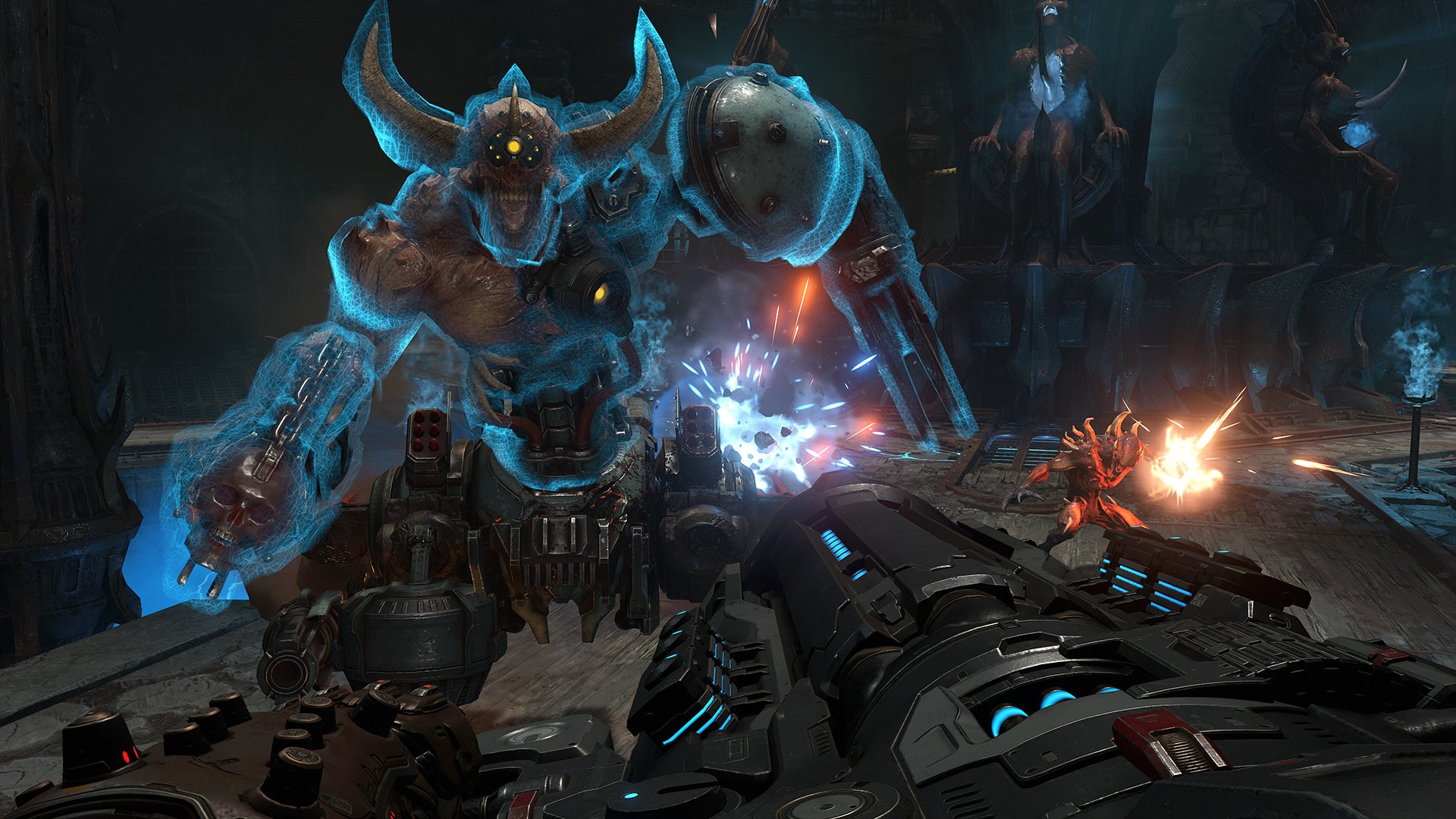 After Stratton recently told Metro that the team had "bantered" with Nintendo about the idea of having the Doom Slayer in Smash, id has seen how badly some fans want it to happen, but that's Nintendo's domain. "Nintendo is a great company, a great partner," says Stratton. "Their hardware, their games are fantastic. When it comes to that kind of thing, we see all the hubbub around the desire to have Doom Slayer on [Smash]—that's really up to them. That's their game, and we respect that."
Of course, fans can and will keep dreaming of Doom and Nintendo crossovers, especially with regards to Animal Crossing: New Horizons, which Doom Eternal shares a release date with. Stratton and id are all for your Isabelle and Slayer memes:
I think it's awesome. The two games could not be more different. They will both be very high quality, polished games, but Hugo [Martin] said this as we've been talking about it and talking with other people about it: it's kind of like an Evil Dead movie releasing the same time as a Disney movie, and people kind of loving that contrast. I think that contrast between the two things is what makes the memes so good.
Doom will still have a home on Switch even if the Doom Slayer can't drop by your Tom Nook-owned deserted island, and Stratton says work on the port is progressing well. "We really haven't talked about dates or anything—I can say that I played it about a week ago, and I am stunned," Stratton says. "Our partner on that, Panic Button, I've referred to them many times as masters of the platform, and they're proving it again. I really think it's gonna surprise people[...] I see it all the time in the comments, when we release a video: 'Can't wait to play it on Switch, can't wait to play it on Switch.' I think people are going to love it.
"We're having it come out later because we want to do the right job with it, we want it to be the highest quality version of the game on the Switch," he continues. "[We] don't want to be compromising in any way."
That commitment to quality extends to making sure that Doom Eternal doesn't just look good and run well on Switch, but that it feels suited well to the platform in both handheld and docked modes. Stratton says that extra care is being taken by id and Panic Button to ensure just that: "They have a whole team of UI artists. It is a small screen, so there are times we pack a lot of information onto the screen, but yes. Menus, UI, the dossier—a lot of adjustments across the board to make sure that, again, it is the best possible version you can get on the Switch."
We'll have more on Doom's history with Nintendo out of PAX in the near future, as we also asked Stratton some questions about Doom 64, which is getting a modern port from the developers at Nightdive Studios. Look forward to a Q&A with Nightdive and a showdown between the two most absurdly powerful weapons in the Doom Slayer's arsenal soon. In the meantime, be sure to read up on our Doom Eternal previews from last month, covering the campaign, difficulty settings, and multiplayer with co-director Hugo Martin.