2DS price drops to $80 in the US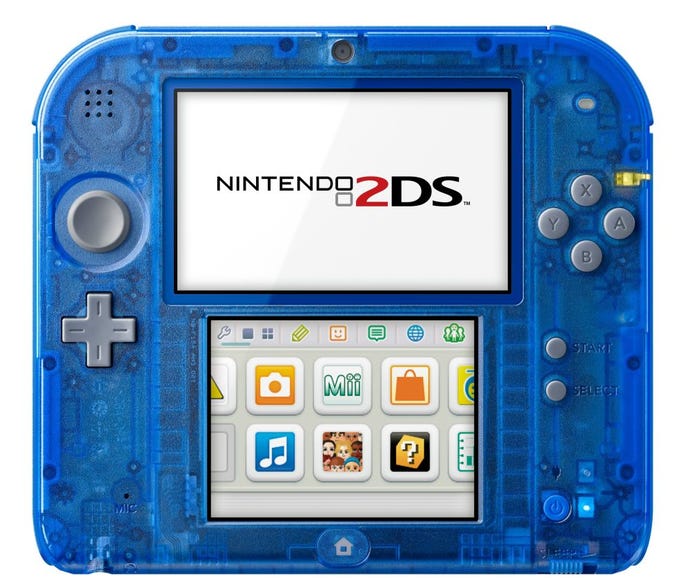 Cheap portable gaming? It's on.
2DS price drops to $80 in the US
Nintendo of America has officially dropped the RRP on the 2DS to just $80. That's down from the previous RRP of $100, established in October 2015, which was itself a discount on the $120 launch price in October 2013.
It's worth thinking about if you're yet to get on board the 3DS. The main differences between the 2DS and standard 3DS or 3DS XL models are that it is stiff-bodied rather than a clam-shell design, and does not have stereoscopic 3D.
Also, while the flat portable may not have the power of the New 3DS, but there are very few games that take advantage of the extra power of the latest iteration (the biggest downside is that you can't play SNES Virtual Console games on it, to my mind).
You can jump right into games like Fire Emblem Awakening and Fates, Bravely Default and its sequel, Animal Crossing: New Leaf, Hyrule Warriors Legends, a couple of Legend of Zelda re-releases, Luigi's Mansion: Dark Moon, Mario Kart 7, a number of Monster Hunter games, a couple of Ace Attorney releases, New Super Mario Bros. 2, a bunch of Shin Megami Tensei games and of course Pokemon - just to name a few.
We'll wait and see if other territories follow suit. The price drop may just be the natural result of time, but it's interesting to speculate on whether Nintendo wants to run through remaining 2DS stock ahead of the expected reveal of the NX sometime towards the end of this year, in anticipation of its 2017 launch. After all, rumour has it that console has some sort of portable component.