Minecraft Nintendo Switch Edition: seeds for world spawns with villages, temples and more
Get the ideal starting point.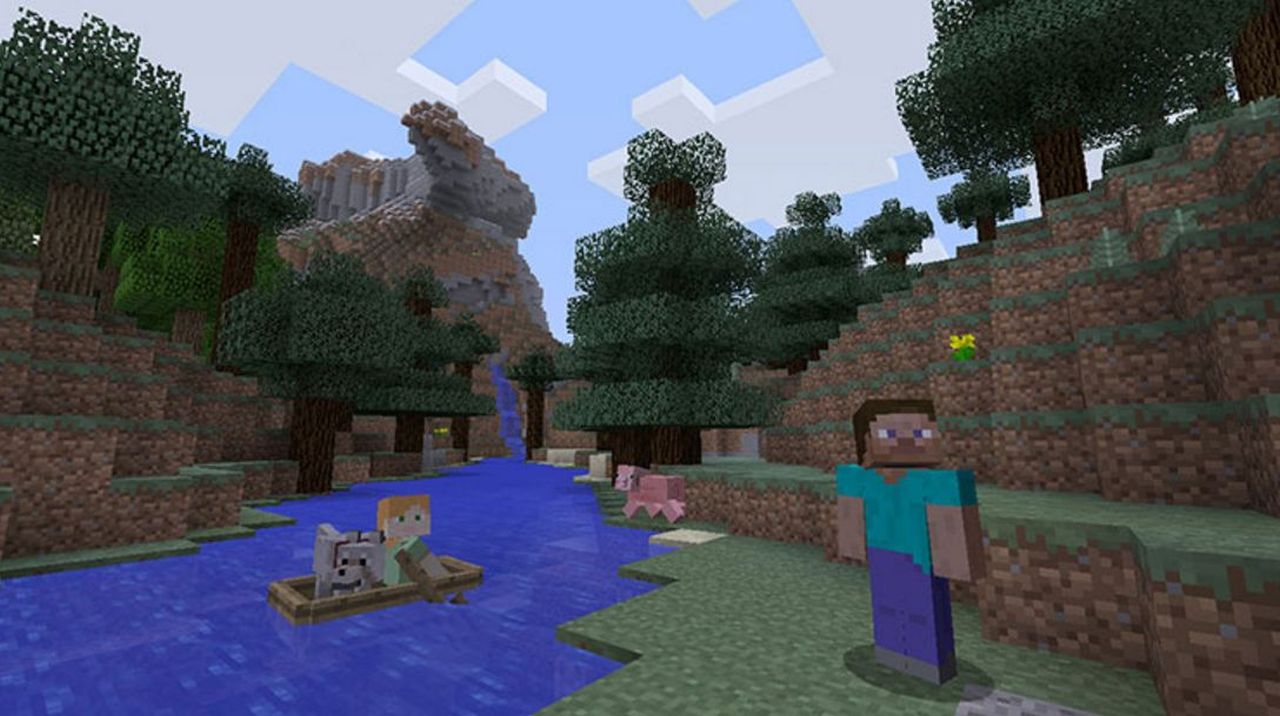 Minecraft is all about an element of randomness, though there are a few instances here and there where players might want to take a little more control over their destiny. There's no other time when that's more key than at spawn. The first few hours of Minecraft can be a gruelling experience as you get yourself a base of operations up and running and create yourself something that you can then build upon. The first few hours can be trying.
Generally speaking, we'd recommend if you're a newcomer to Minecraft you experience these first few hours properly. Be lost in the wilderness. Have nothing. Punch trees. (You'll probably have to punch trees either way). Spend your nights living in abject terror from zombies, skeleton archers and of course creepers. That's part of the initial fun of Minecraft, and if you're playing the rather good Nintendo Switch Edition of Minecraft as your first, you should go through that.
If you're a more experienced player, however, you might want to skip that bit or at least be closer to some resources in order to get to the true meat of the game more quickly. For that you can use seeds, special codes that help the game to decide what spawns around you when you load up a new map for the first time.
Below, we've surfaced some seeds for the launch version of Minecraft: Nintendo Switch Edition that are close to villages, temples and other useful places – so if you want a head start or want a guarantee of a town you can develop close to your spawn, we've got you covered. These codes should also work fine on the PS4 and Xbox One versions of Minecraft with a medium map size.
How to use a Minecraft Seed
In order to use your seed code, head to Create on the main menu, then Create New World. After naming your world scroll down to 'More Options' and hit that.
Inside here you'll find a form called 'Seed for the World Generator' – if you put the codes provided into this space, it'll change the world that spawns around you from random to something a little more predictable.
Be careful to get the codes right – there's no such thing as a 'wrong' code, so if you're off by one number or something you will still load into a game, but the world won't be what we predicted.
Minecraft Switch Edition World Seed Codes
Ignore any quotation marks around the Seed codes below, and enter them exactly as written. If you've got any more useful codes, drop them in the comments below – we'll test them out and if they're good add them to the main article!
Jungle Village seed with Blacksmith & lots of biomes nearby
Type "Golden Apple" into the world seed form to get this seed. This handy cheat seed persists through updates.
Spruce Village with Blacksmith seed
To get this handy starting point type the following code into the world generator seed form: "-7524812735126314476". When you spawn, the village is right in front of you, out of sight – just keep walking straight ahead. It's also near the ocean, which makes for pretty views.
Village with blacksmith near a desert seed
To get this fairly standard-issue, regular-biome village, enter this code: "-4991290003418104491". This village has a blacksmith and is near water and a desert biome.
Temple & Village seed, plus lots of animals and pumpkins nearby
This seed will give you a nearby village and a nearby temple, plus you'll spawn in an area packed with all sorts of wildlife – cows, sheep, rabbits, ducks, horses – you won't go hungry here! Use the seed "-8728398995121748442" to reach it.
Desert Temple seed, plus lots of horses
The nearest village on this seed is actually a bit further away, but what you get instead is access to a desert temple, another rare type of structure you can raid for resources. Enter "-2520503728690039594" to access it.