Minecraft and the Switch are a match made in heaven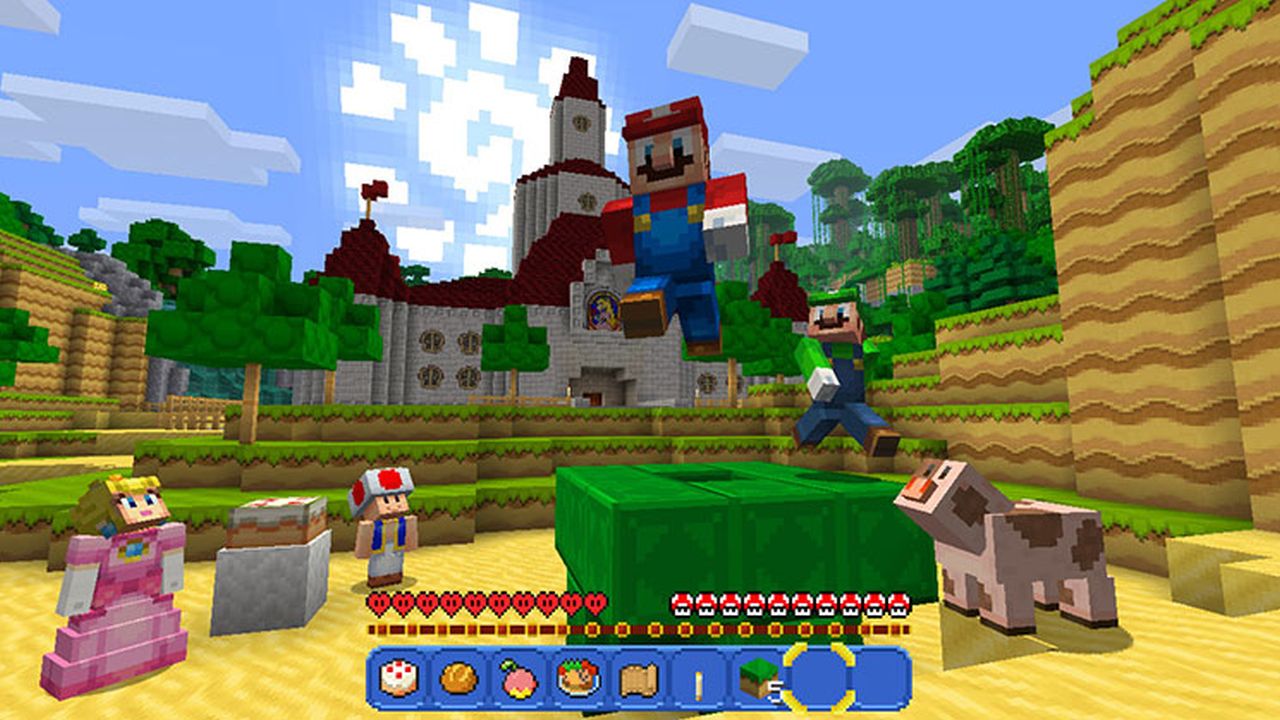 Minecraft: Nintendo Switch Edition has the potential to be a devious time-devourer, as I'm learning the hard way.
It's 1am and I'm sitting playing Minecraft. I really should be in bed - the next day I have work to do, including the gruelling ongoing process of preparing for E3. But no. I'm down, deep, mining for diamond using the old branch mining method. The twist in the tale is that I actually am in bed - and that's the beauty and the danger of Minecraft: Nintendo Switch Edition. It is, at last, a full version of Minecraft that you can take with you anywhere.
"Minecraft has always been hard to put down, so putting a fully-featured, well-performing version on a system you can carry with you is positively deadly."
To be honest, it's not like I need to play any more Minecraft. Friends and I have paid for a private PC server for going on three years now, and though the days when we'd log on as a group and chat over voice for a few hours are long gone, every now and then we'll update the server, regenerate unused chunks, boot up our old world and explore once again. If I want to play Minecraft, that's still there, with the collective effort of hundreds of hours of work from 8-plus players included. Every now and then I get the Minecraft itch and return to the server to scratch it. Each time one of us does, our carefully-constructed world expands more still and becomes harder to ever reset or say goodbye to.
I mention this because the fact that I have this option is important to articulate why I'm so impressed with Minecraft on the Switch. Despite having an absolutely superior option at my fingertips, I was tempted to play the Switch version of the game. Before I knew it, I was getting properly sucked into it. Hours passed. Now I've tracked down a village and am settling there properly, erecting city walls to keep out enemies at night and building extra shelter to encourage villager growth while continuing to mine extensively. Minecraft has always been hard to put down, so putting a fully-featured, well-performing version on a system you can carry with you is positively deadly.
Minecraft has at this point dabbled in every platform you can imagine. PC is and likely always will be the king thanks to it receiving features first and having a ludicrously healthy modding scene. Beyond that we've had phone-based 'Pocket Edition' versions that are slimmed down in a significant way and the Console Editions.
The console versions are limited versus PC in terms of world size (console worlds are limited to several pre-set sizes where PC worlds are unlimited) but they're basically feature-complete otherwise. Which of these is best depends on your priorities.
The PS4 and Xbox One offer the largest possible world map size at 5120 blocks squared. The PS3, 360, Vita and Wii U were all limited to a tiny 864 blocks squared. The Switch Edition maxes out at the 'medium' size, which is 3072 blocks squared.
Basically, its world size is smaller than the PS4 and Xbox One, but that seems like a fair trade for it being portable - it more than triples the world size offered on the Vita, and honestly 3072 blocks squared is more than enough for all but the most slavishly dedicated of Minecraft players. If you need larger, the truth is that you should probably be migrating to PC.
Minecraft is always a bit of a weird game to judge for performance since you can build and do things that make even the most beefy machines chug, but generally speaking my time with the Switch version of the game so far has been technically pleasant. There's an aggressive draw distance culling which will become obvious if you switch to creative mode and fly around, but on the ground this doesn't feel so noticeable. The frame rate remains pretty solid unless you're setting off a mad chain of TNT explosions, too.
We've reported on this elsewhere, but it is worth noting that the game currently tops out at 720p in both docked and undocked modes. Most Switch games such as Mario Kart 8 run at 720p undocked and 1080 docked, but Microsoft say that Minecraft struggles to switch between resolution on the fly. It's something that might be patched, but pixel counters might be disappointed in this. With the main draw being having a version of one of gaming's greatest time killers on the go, I'm personally less concerned about the lack of a bump for docked mode.
The worst part of the Minecraft Switch deal is actually the online - which in typical Nintendo fashion is bizarrely and tediously constructed. You can't actually invite people to join you, but if you set your world to be an online one anyone from your friends list can hop into your game that way. It's all a little clunky and there's no way to even communicate once somebody does join, not even a basic emote system, but given that Nintendo's online system for Switch hasn't even properly launched yet it's all a bit of a question mark.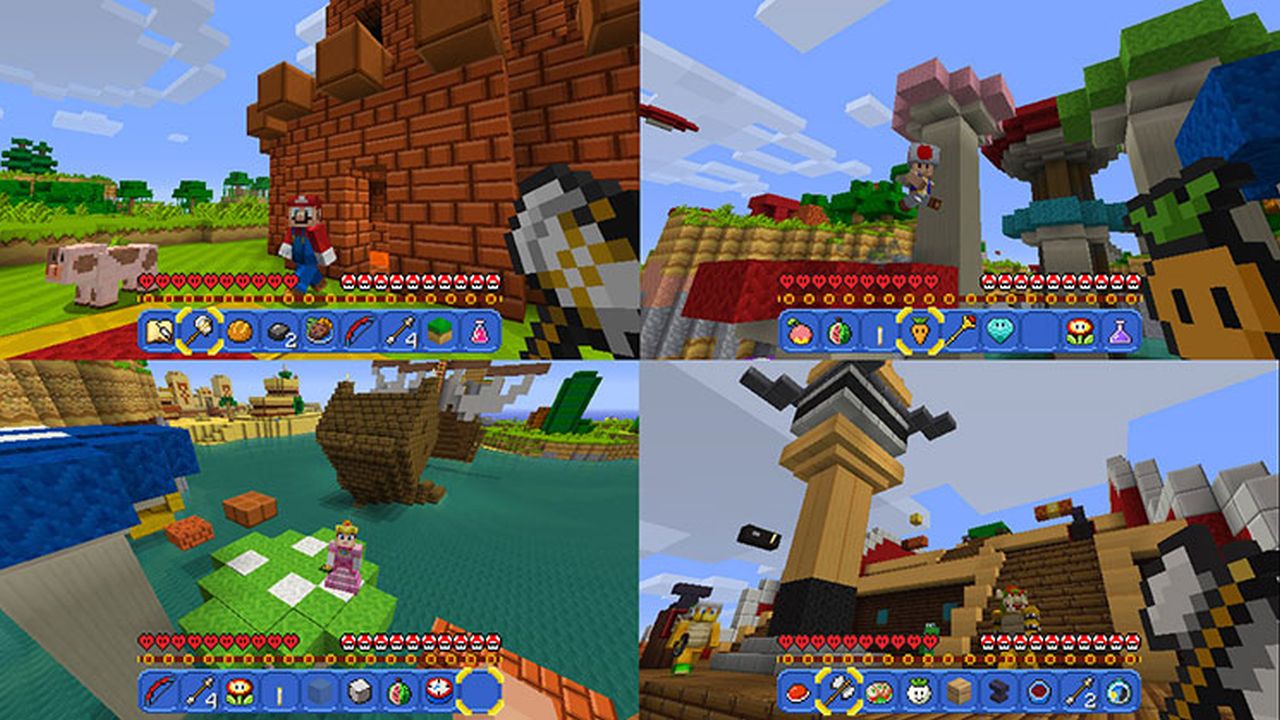 "Its world size is smaller than the PS4 and Xbox One, but that seems like a fair trade for it being portable - it more than triples the world size offered on the Vita."
There's sadly no LAN play but the game does support 4-player local split-screen action that's perfect for when the game is docked - just keep in mind that Minecraft requires enough buttons that you can't use a single joy-con per player - everyone needs a 'full' controller set, be that two joy-cons or a pro controller.
Everything else you'd expect is present - there's the now-standard store for full-conversion skin sets for the game, and the Super Mario skin set is of course included by default. This one is particularly impressive since it spawns you into a gorgeous developer-built Mario world with fantastic homages to each major game in the Mario series - you can honestly lose a couple of hours just exploring the little Mario theme park included on top of everything else.
But, look. It's Minecraft. Chances are you know what that means. What impressed me is that this version looks good, runs well, and has a killer app that makes me want to play it despite having access to the PC version of the game: I can play it anywhere. It's a great time killer, as fun and engaging as ever, and an utterly perfect fit for the Switch's philosophy of taking full-size games with you anywhere you want. I know what I'll be playing on the flight to E3... if the US government lets me, anyway.
Minecraft: Nintendo Switch Edition is out now on Switch cart and on the Nintendo eShop.