Wrath of the Machine loot table shows what's on offer in Destiny: Rise of Iron's raid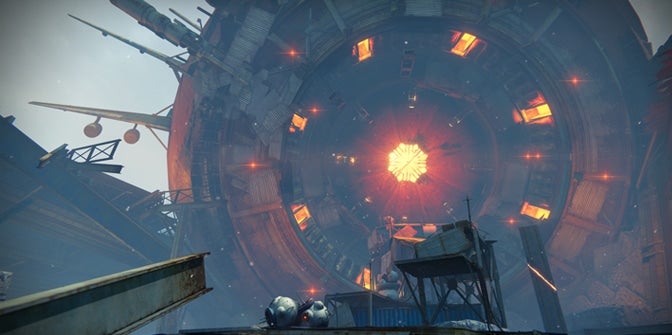 The best Destiny: Rise of Iron loot is found in Wrath of the Machine, the new raid.
Destiny: Rise of Iron will eventually offer multiple paths to endgame gear but right now the Wrath of the Machine raid is the best way to get 385 Light gear - or at least, better than the 365+ stuff you're rocking after grinding strikes for 50 hours.
So what awaits you if you make the effort? Plenty. Let's start by talking about what you can get where, then what all those things are. Behold! The Wrath of the Machine loot table for normal mode:
Wrath of the Machine normal mode loot table
Archpriest Vosik

Quantiplasm (shotgun)
Ether Nova (fusion rifle)
Boots

Siege Engine

Sound and Fury (rocket launcher)
Artifact
Chest
Gauntlets

Aksis, Archon Prime (first phase)
Aksis, Archon Prime (second phase)

Genesis Chain (auto rifle)
Chaos Dogma (scout rifle)
Helmet
Class item
If you're more of a visual learner, check out this version on Imgur.
Wrath of the Machine hard mode loot table
The hard mode version of Wrath of the Machine hasn't launched yet, so we don't know the full loot table. However, we do know of several raid weapons which haven't turned up in normal mode, so it's likely the hard mode loot table will include the following:
Steel Medulla (pulse rifle)
Fever & Remedy (hand cannon)
Ex Machine (sniper rifle)
Zeal Vector (sidearm)
IF Materia (machine gun)
Wrath of the Machine raid weapons details
You'll probably want to take your nice high Light Wrath of the Machine raid weapons back into PvE or PvP, so let's get to know each of them.
Quantiplasm
A nice high-impact, high-range shotgun let down by limited perks; there's no way to max out the range on this bad boy. It's slow to reload, very unstable and difficult to aim, which makes it tricky in PvP. In PvE, it's decent for quick damage on adds. Put this away and stick to Party Crasher.
Ether Nova
This fusion rifle is for experts only: it takes serious skill to land this long-range fusion, and although the high charge rate means you can get off several bursts in a hurry, the low impact means you need to land them all to succeed. If you can get nice and close in PvP so all the bolts hit, you'll wipe your opponents - but that's a big if.
Sound and Fury
This rocket launcher is definitely all about single-target damage, like bosses, as opposed to wiping out large groups of adds. Its perk array means a good roll will leave you with plenty of heavy ammo, but the trade off is a low blast radius and and none of the usual rocket launcher favourites like Tracking and Grenades and Horseshoes.
Genesis Chain
Auto rifles aren't much chop in the current meta but Genesis Chain is great for racking up critical in PvE thanks to fantastic range and flinch-friendly perks. The real selling point is Focused Firefly, allowing you to chain explosive damage.
Chaos Dogma
An excellent little scout rifle with excellent range and good perks allowing you to keep the headshots coming with few reload breaks - provided you actually hit your target, which is not guaranteed thanks to lower stability and target acquisition. It's very good for unloading DPS on more static targets like bosses, even if you're not a great shot.
After Wrath of the Machine hard mode releases, we'll update with details of the remaining raid weapons.