Would Harmonix like to revisit Frequency and Amplitude? "Yes", says Rigopulos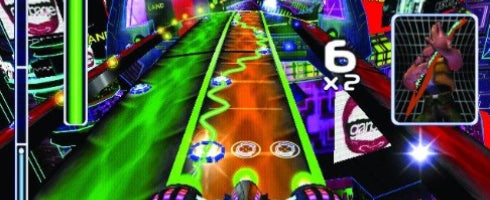 Harmonix boss Alex Rigopulos has told Edge he'd like to revisit the company's first two titles Frequency and Amplitude in the future.
Frequency was the first title the studio had developed, releasing it on PS2 in 2001. A sequel, Amplitude, released in 2003 for PS2. Both titles were published by Sony.
After that, Harmonix left them behind to focus on Guitar Hero and Rock Band, but Rigopulos is keen on revisiting the games.
When asked if he would like to revisit the games, Rigopulos simply answered: "The short answer is yes, absolutely.
"Those early games were near and dear to our hearts. We loved those games and of course have been focused on other areas in recent years.
"Rock Band's been focused on rock music, Dance Central has the luxury of focusing on all kinds of other music, but in terms of rhythm-action-type games focused on electronica, that's something we'd love to come back to at the right moment in time.
"Or something completely new focused on that style of music."
Currently, Harmonix is finishing up on Rock Band 3, which launches at the end of the month for PS3, 360, Wii and DS.
It's also working on Kinect launch title Dance Central.