Why PUBG players are seemingly sick of Miramar
For some PUBG players, Miramar offers an experience not found in Erangel. For others, the PUBG experience is inseparable from Erangel.
Amidst all the talk about PUBG's two maps and their strengths and weaknesses, it's not hard to see how Miramar has seemingly fallen from grace. Before it was released, players were on the hunt for any and all info they could get their hands on. Datamining its (then-outdated) layout, making fun of the placeholder town names, and generally being excited that a new environment was coming to PUBG.
The game's developer played into that hype, too, teasing the showing of the map's first gameplay footage at the Game Awards. The day Miramar hit test servers, practically everyone on my friends list who plays PUBG switched to that version full time. It helped that the test build also had other anticipated 1.0 additions like the new UI, vaulting, and several other minor improvements.
For weeks, players wanted to play nothing but Miramar, and would regularly quit the lobby whenever Erangel showed up. Now, something's changed, and the public opinion – at least on message boards and social media – has seemingly turned. Players are now actively removing Miramar files from the game to avoid ever seeing it come up.
So what happened? Well, it's a combination of a few things, and some don't have much to do with the map itself.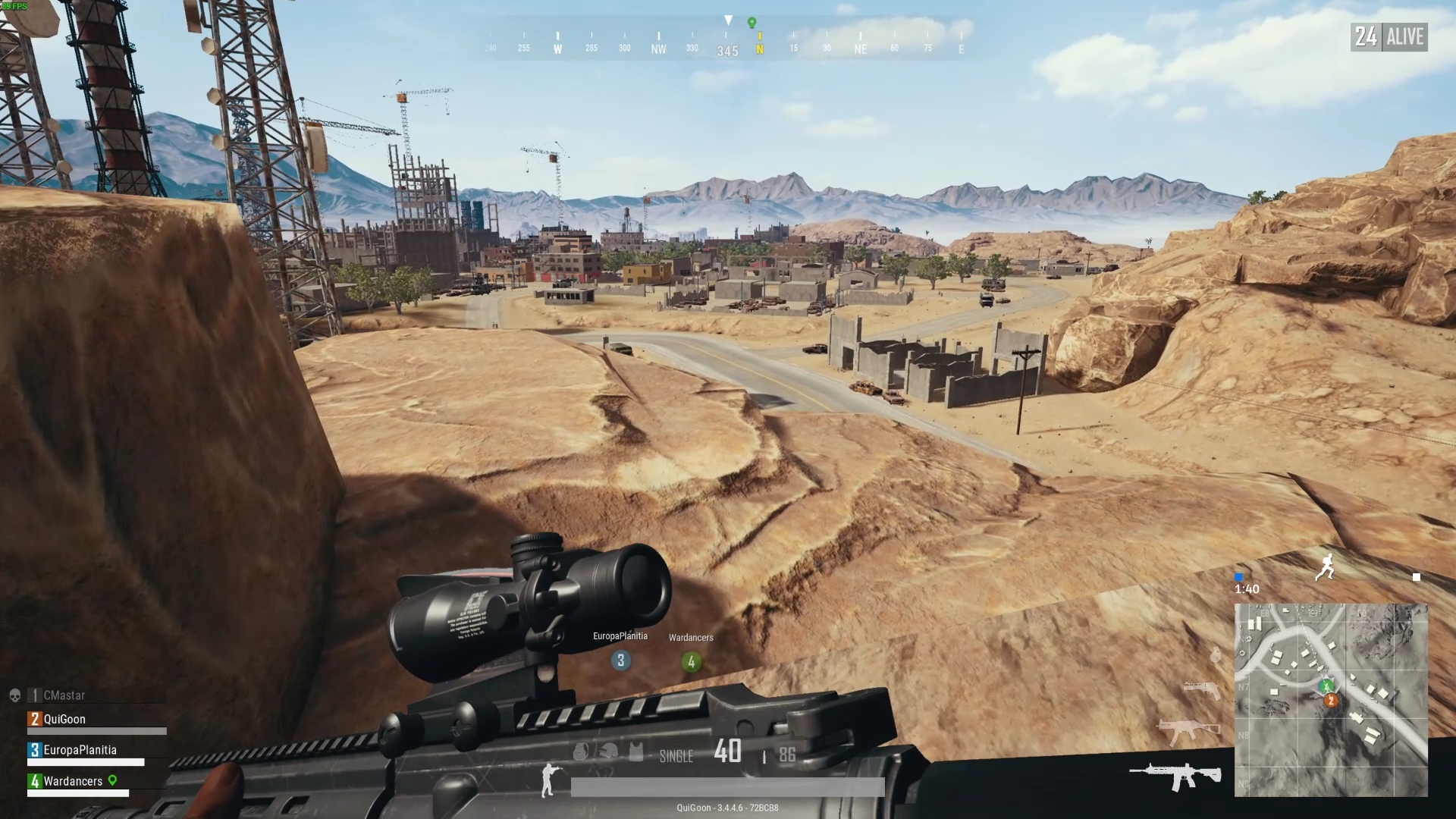 The root of players' distaste for Miramar is that the map provides a different experience from Erangel. For better or worse, players associate much of their PUBG experience with Erangel. The map has become synonymous with PUBG.
Many find it hard to separate their feelings about gameplay mechanics from those about the environment itself, and often conflate the two. Like it or not, Erangel remains everyone's frame of reference for all things PUBG. Talk about engagement distances, the lack or abundance of cover, or how easy or hard it is to predict certain outcomes - all have as much to do with Erangel's topography as they do with PUBG's own, naked mechanics.
Taking a step back and looking at the two maps today, you'll realise that much of what players hated about Erangel is gone in Miramar. The dreaded tree fights, how trivial it is to blend in and hide in the grass, how rewarding bridge camping is, and even how challenging infiltrating buildings can be are all problems Miramar doesn't have.
In fact, a few of the gripes players have about Miramar are things they wanted PUBG to have more of in the first place. Fans have been asking for more urban combat, more verticality, and less advantages for campers, both in buildings and out in the open world. All of these are offered in spades in Miramar's sunny desert.
You could say that the problem is that Miramar is not the PUBG they know, but that would ignore a list of legitimate issues Miramar has.
It's too big
Miramar may not be much bigger than Erangel in raw measurements, but it feels like a much bigger space. Miramar feels vast because most of the towns are larger and denser than what you find in Erangel. Making matters worse, lots of buildings have multiple stories, and often several closed doors on each floor.
You may not think about this while playing, but it takes a lot longer to comb through buildings in Miramar than it does in Erangel. Everyone is always complaining about chasing the circle in Miramar, even though circle times and speeds are the same across both maps.
When it takes you longer to gear up, it's going to feel like you ran out of time quicker than it does in Erangel.
Miramar is also very feature-less. The land mass in Erangel is split between three distinct sections. The entire map is surrounded by water, and there's a canal near the top. This makes boats and jet skis viable transportation options to and from many of Erangel's spots. Depending on where the circle ends up, there's often a use for water vehicles beyond just the start of the game.
This split also creates opportunities for emergent gameplay like bridge camping. Ambushing someone on their way back from Military Island is fun, not just because of the loot you score, but also because you can always find your way back by taking one of your victims' cars.
If you start south of Polyana and wish to go north, you have two bridges in close proximity you could take to the upper half. If you fear an ambush, you can take the long way around, but you'll be passing by many buildings with potential campers, and putting up with harsher terrain. These are the sorts of options Miramar lacks.
Traversing anything but paved roads is a nightmare
This is the other factor that makes Miramar feel bigger than it actually is. Players are used to going anywhere with a car in Erangel. A UAZ will climb up pretty much any mountain. Dacias will do this slower, but they're faster on roads. You never really think about jumping out of a car to go the rest of the way on foot in Erangel.
In Miramar, veering off the beaten path - even slightly - will introduce you to thousands of little rocks, bumps, ledges and other obstacles that you can't always see but are all seemingly capable of bringing you to a complete stop, or worse, flipping the whole vehicle over.
Navigating around these requires finesse, and a lot of patience. It's easy to see why players prefer to stick to proper roads. Even still, there aren't that many of them in Miramar, meaning they probably won't get you to where you want to go, itself another variable that makes Miramar appear larger than it is.
Masterfully navigating these horrendous off-road conditions also makes you an easy target. Because of the speed management these bumpy roads require, you'll never be able to get out of a hot spot quickly enough. At times, it feels like you're fighting the road more than other players. I have gotten so many kills on players struggling to navigate off-roads in Miramar. That almost never happens in Erangel.
It's too open
Despite all of these little humps and ridges, there's very little cover in open areas. If you can't find a defilade to hold up in, you'll be mostly dodging shots and running until you find a proper hill to hide behind.
A lot of the complaints about the lack of cover also refer to situations where an entire city would have a clear line of sight to a massive, open section of the map. Anything that happens in these open spaces will be visible from miles away by potentially many players.
The buildings in Miramar have way too many windows. If one of these areas falls in a late-game circle, anyone in these building is going to have a distinct advantage. There's simply no way for you to easily check all windows before making a push.
Your best bet is to run and hope for the best. In Erangel, buildings don't have that many windows, and there's typically one or two of them covering each side, making it easier to suppress campers and control the angles of attack, even partially.
This openness also means all players can simply see much more than they could in Erangel. Miramar's yellow colours and sunny conditions make it harder to blend in. You'll never see these videos of players hiding in grass and being completely invisible to an enemy player who's practically right on top of them. You just can't do that in in Miramar.
Engagement distances are harder to predict
The open nature of Miramar, coupled with its rough terrain, give players who manage to pick a nice vantage point a massive advantage.
In dense towns, and unlike Erangel, you have to be mindful of many more angles than you realistically could cover. The verticality in Miramar, thanks to its many tall structures and multi-story buildings, gets people killed a lot because they're only scanning what's around them, not above.
At any given moment, predicting where an attack is going to come from is much easier to do in Erangel. Not so much in Miramar, especially in those long stretches of open terrain overlooked by camping spots everywhere.
There's a feeling many players share that Miramar leans a little too heavily on the RNG side of things, which makes them reluctant to move and encourages camping.
Some of these problems need to be addressed, particularly the traversal part. PUBG Corp is already working on some changes. This week's test patch added more off-road tracks, and several bits of cover to make the open areas less gruelling.
But it'll take more than simple band-aids to fix Miramar's major issues. Part of this recent resurgence in hate is owed to the lack of a map select option. When that gets added, Miramar will only be picked by those who don't have an issue with what it offers. It's perfectly fine for each map to offer its own take on PUBG, even if one will inevitably be less popular.