When you jump into a tank or plane in Battlefield 1, you switch over to the Pilot or Tanker class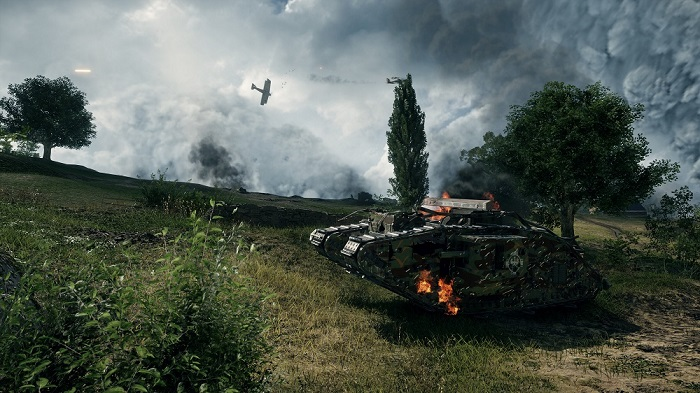 Landships, planes and tanks. Oh my.
DICE has released a new Battlefield 1 video which takes a short look at some of the vehicles you'll be using.
Vehicles have always played a large part in the series' all-out warfare, and in the video, DICE said in this case, the vehicles are pushing the "sandbox to the limit."
The team wanted to put more variety of vehicles with more movement, and to demonstrate the brutality of these vehicles as represented on the battlefield.
"Many of the combat vehicles seen in the military today go their start in World War 1," said senior vehicle designer Patrick O'Shaughnessy in the video. This is includes fighter aircraft, bombers, and armored cars - all of which you see in the video.
And of course, the tank is featured in the video too. The team designed the tank as a "big, brutal beast" players should fear as its being driven about, dominating the battlefield.
Planes in the game consist of twin-seaters, fighters and heavy bombers all of which were light, but with very powerful engines. Players will be able to sense this as they feel gravity pulling them as they climb and dive.
In the video you also get a quick look at the custom Landship, tank, bomber and fighter planes. The Pilot or Tanker classes will be applied to the player when they enter either vehicle.
When taking control, the player will "eschew their typical class" in favor of the two new vehicle classes. This will allow the player to "trade-in" their Medic or Support kit in favor of playing as a Tanker or Pilot.
If the player is in a tank, they will be playing a character that is specialized in taking care of the tank and running it which will make them as efficient as possible. It's the same with the plane. When deployed into it, the plane become the player's primary weapon, and they're fully absorbed into that role, rather than being an "Assault who happens to by flying a biplane."
More information on Battlefield 1 is expected to drop at gamescom 2016 next week, and before the show kicks off, on August 16 we'll get a live look at 64-player Squads, which was first shown off during EA Play back in June.
It will be shown via a livestream next Tuesday 12pm PT/3pm ET/8pm UK. The stream will also be showing off a new desert map and a look at battles on horseback.
Battlefield 1 will be released on Origin for PC, PlayStation 4 and Xbox One October 21.