Warframe Developer Responds to Recent Wave of Negative Reviews on Steam
Several issues with the Chinese Warframe community brought on a torrent of negativity.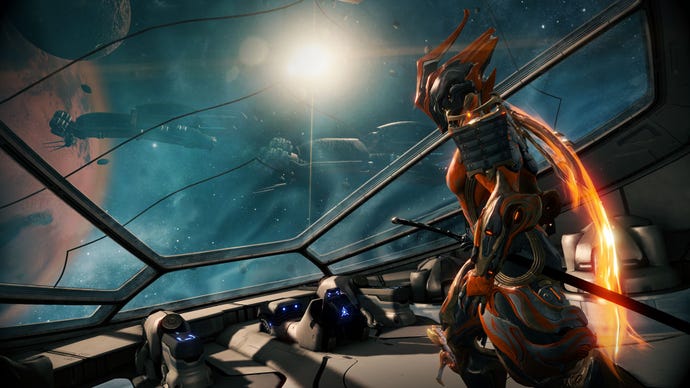 This article first appeared on USgamer, a partner publication of VG247. Some content, such as this article, has been migrated to VG247 for posterity after USgamer's closure - but it has not been edited or further vetted by the VG247 team.
The online loot-shooter Warframe has seen a significant uptick in negative reviews over the last week or so, over a couple of concerns between developer Digital Extremes and the game's Chinese community. After a falling out with a volunteer translator went public and attention was brought to the game's internal denotation of Hong Kong and Taiwan as "countries," a flood of negative reviews hit Warframe's Steam store page.
It started around September 13, when around that time a volunteer translator who later posted their comments to Reddit was dismissed from working on the Chinese translation of Warframe. Digital Extremes does contract volunteers to assist with translating Warframe to other regions, and in a follow-up statement, Digital Extremes mentions a recently-added volunteer agreement which would allow for the sharing of unreleased information, not unlike an NDA.
The translator, who goes by "Ji," posted the letter they received from Digital Extremes on Reddit and other forums. The letter of termination states that Ji had been publicly sharing internal information about the localization process, private conversations with Digital Extremes staff members, and information about unreleased content. It also states Ji had insulted Digital Extremes staff members.
In Ji's account, they state they took issue with Digital Extremes' "awful" Chinese translation. Ji claims they're well-known in the Chinese Warframe community, but they gradually came to odds with the Digital Extremes translation staff, disagreeing with translations being put into the game and comparing them to machine translations.
In their post, Ji also acknowledges they were in contact with members of the Chinese Warframe community, though they don't specify what kind of information was discussed: "So many players come the Global build. And I am kind of like the bridge between the players and the DE members. With the volunteer tag they can trust me on really fix the translation."
In Digital Extremes' statement on the matter, posted September 16, they state that a change was made to the volunteer translation team.
"We do not remove people from our volunteer programs lightly, and such removals are made after great consideration. Our volunteers are provided with a list of program guidelines and a (recently-added) volunteer agreement that allow us to share unreleased information with them-sometimes a violation of these guidelines occurs, which prompts us to remind Tenno of them."
The spokesperson for Digital Extremes writes that "when multiple violations occur, removal from our volunteer programs is necessary." In a follow-up comment to USgamer, a representative for Digital Extremes stated the following: "Our Chinese community is very important to us and we're continuing to work with them to listen to their feedback, address their concerns, and ensure their needs are met."
But meanwhile, reviews have been flooding the Steam store page for Warframe and to some extent, still are, highlighting the issue with the translator. In the process, another issue got brought to attention: under countries, Warframe users were able to select Taiwan and Hong Kong.
Taiwan and Hong Kong's relationship with China has been a matter of conflict for some time, with the latter recently resulting in protests and airport shutdowns. Users posting Steam reviews expressed anger over this, declaring both as part of China.
In recent days, Valve has been marking these reviews as off-topic. By clicking the asterisk on the storefront page noting the off-topic tag, a window explains the situation:
"This time range has been marked as containing an abnormal set of reviews that we believe are largely unrelated to the likelihood that you would enjoy the product. The reviews within this period are excluded from the Review Score by default."
Given the falling number of reviews issued daily, it seems the situation might be cooling off. In Digital Extremes' statement, the team acknowledged calls from the community, saying "we are committed to being more sensitive to player concerns," in addition to making improvements and adding polish to our localized content."
Warframe's seen incredible growth over the years, from a lesser-known F2P loot-shooter to an extremely well-regarded "forever game". In July, Digital Extremes' COO Sheldon Carter told Eurogamer that development is a "marathon, not a sprint," highlighting the company's long-term approach to crunch and delivering consistent content. Hopefully that dedication to both dev health and player engagement weathers this most recent storm.