VR was "the biggest loser" in sales this year, PSVR sales forecast greatly lowered - SuperData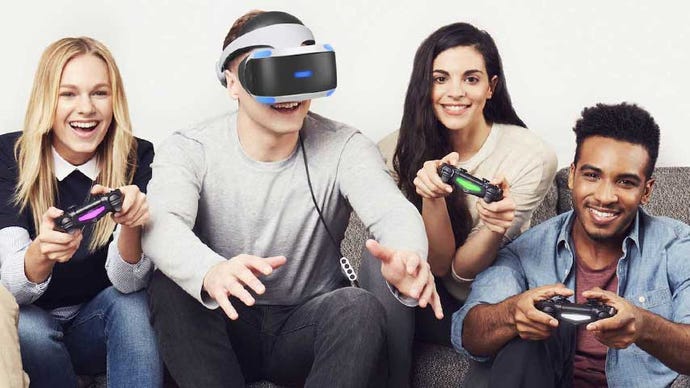 According to at least one analytics firm, VR did not make quite the splash some were hoping for.
SuperData, the research firm that often provides insight into the world of game and hardware sales, has revised its expectations for some VR headsets, saying the platform has been "the biggest loser" in sales so far, particularly coming out of the Black Friday shopping season.
The firm told Games Industry that sales were down due to "relatively fragmented title line-up and modest marketing effort." As such, the firm greatly downgraded 2016 expectations for PlayStation VR in particular, from 2.6 million down to less than 750K.
Google Daydream saw a drop from 450K to 261K, but HTC Vive, Oculus Rift, and Gear VR estimates remained unchanged at 450K, 355K, and 2.3 million, respectively.
Part of this sharp change in PSVR estimates has been attributed to "supply inconsistencies and lack of marketing", even if the headsets had the best opportunity to benefit from holiday sales.
"They did not offer any first-party deals this weekend, restock bundles or market the device, pushing instead for the PS4 Pro," said Stephanie Llamas, director of research and insight at SuperData. "They have also pointed out that VR looks even better on a Pro than a standard or slim PS4, so the message to most gamers is: get the Pro now, then the PSVR later. As a result, we won't see them break 1M shipments until well into the new year."
This limited supply approach could indicate Sony is "being cautious before fully investing in the tech", which can be taken to mean more units will only be produced to support the release worthy content. "They can afford to take it slow since they have no competition for now, so their supply and sales will rise steadily into 2017 as opposed to riding the seasonal wave," added Llamas.
The rest of the report covers possible fragmentation issues the Oculus Touch controllers could introduce among the headset's user base, as well as other non-VR data on Nintendo and digital game sales. You can read it at the link above.