Valheim: Where to find copper | How to mine copper ore and craft it into bronze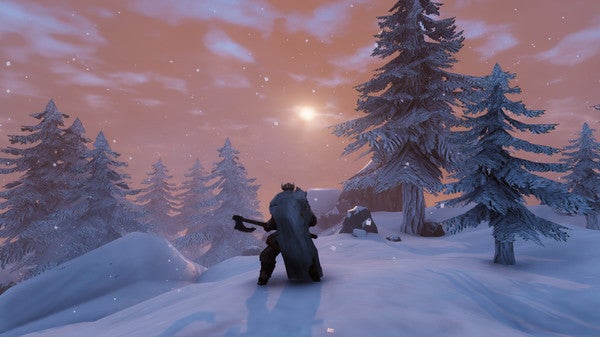 In Viking survival fantasy Valheim, there are many natural (and a few supernatural) resources at your disposal. Of these, copper and bronze are noteworthy for their usefulness in crafting a number of tools, weapons, and armour sets — many of which will be essential in your quest to reclaim this lost realm for Odin.
On this page, you will find:
Where to find copper in Valheim
Copper ore is a naturally occurring resource in Valheim, though it requires smelting to purify it before it can be used in crafting. Most importantly though, pure copper is a vital ingredient in creating bronze.
You can find veins of copper ore in the Black Forest. You'll need to mine for this resource.
Fortunately, mining in Valheim is not a complicated process: the hammer, which is in your inventory as default, can be used as mining equipment. You can also take a pickaxe to it — or a variety of the other sharp tools in the game, for that matter — but the hammer will do the job.
How to smelt copper ore into copper bars
In order to create pure copper from the copper ore resource, you'll need a smelter. You can't make one of those until you've dealt with the game's first boss, Eikthyr the Stag, since defeating him gives you access to the Burial Chambers in the Black Forest where you can find Surtling Cores. Combine five Surtling Cores with 20 stones using a workbench to create a smelter.
Using coal as a heat source, you can smelt copper ore into pure copper bars. Copper bars are used in three recipes: the copper knife, the forge, and bronze.
How to craft a forge
The forge is where you actually create bronze, an alloy of copper and tin.
To build the forge, you'll need the following resources:
Six copper bars
Ten pieces of wood
Four pieces of stone
Four pieces of coal
Copper bars are created using the smelter, as detailed above.
Wood and stone can be easily picked up from the ground. In fact, by the time you've reached the point in the game where you can think about building the forge, you probably already have more than enough lining your pockets.
Coal is just slightly more complicated. While it can be found in chests or on altars, or dropped by defeated Surtling enemies, a more reliable method is to make it yourself.
The easiest way to do this is to place some of that excess wood we mentioned into a charcoal kiln, but you could also deliberately overcook raw meat at the cooking station. Considering the complications of feeding yourself and your friends in this game, however, it's probably better not to sacrifice your food stores unless you absolutely need to.
To craft the forge, first place a workbench. Then pull the hammer out of your inventory, and switch to the 'Crafting' tab. If you have all the necessary resources, you'll be able to automatically craft and place the forge.
How to craft bronze in Valheim
To craft bronze, you need to combine two copper bars with one piece of tin at the forge.
Luckily, tin can also be mined in the Black Forest, using the same method you used to extract copper ore at the start of this process. Look around for some tin deposits and chip away at it with a tool, and you're good to go. You don't even need to refine it: tin ore can be used as-is in the bronze making process.
Once you have access to bronze, you can craft some really useful items to help you out in the mid-to-late game.
For more Valheim tips, here's our full guide hub.
To find out how to craft a cultivator and begin farming, check out our guide here.
Or if you prefer, see our guide to Valheim's boats to find out how bronze nails figure into upgrading your watercraft.