Updated AvP demo now available for PS3 users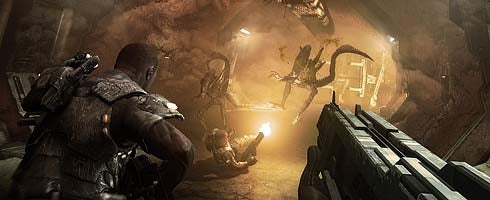 SEGA and Rebellion announced today that an updated version of the Aliens vs Predator demo is now available on PSN.
The original demo has been taken down and replaced with the new version.
Matchmaking issues plagued the original demo, resulting in some players experiencing difficulties getting into matches. These issues were resolved, and some additional functionality was added to allow PS3 users to create their own matches and browse for any available ones to join.
"We are confident that the matchmaking issue has been fixed with this new demo and we will be monitoring community activity closely over the coming days to ensure that it has been fully resolved, said SEGA Europe's Gary Knight. "We would like to thank the community for all of their valuable feedback and continued patience."
Rebellion would clarified the reasoning behind the choice of a Deathmatch multiplayer demo for AvP.
"We chose Deathmatch as the mode for the demo as it's very familiar to all FPS gamers and minimizes restrictions on players while they are getting to grips with the controls of each of the three playable species" said Jason Kingsley, CEO and co-founder of Rebellion. "We have plenty of new modes in the game and players only have to wait a matter of days before they can play them when the game launches."
SEGA has released an FAQ for players to discern whether they have the original demo, or the new one. It's through here.
AvP's set for release on PC, PS3 and Xbox 360 February 16 and 19 in the Us and Europe, respectively.