Twitch Viewers More Than Double to 45 Million in 2013
The game streaming service grew immensely last year.

This article first appeared on USgamer, a partner publication of VG247. Some content, such as this article, has been migrated to VG247 for posterity after USgamer's closure - but it has not been edited or further vetted by the VG247 team.
It's safe to say that game streaming site Twitch.tv blew way up last year, but until now we didn't know specifics about the service's growth over 2013. Today, Twitch has released its statistics for last year, including how much those numbers grew over 2012.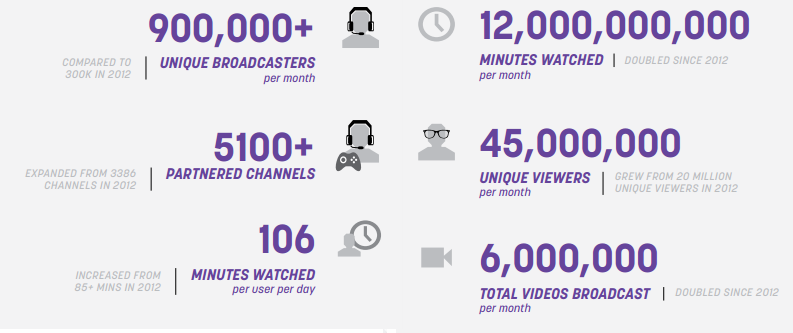 In 2013, Twitch reached 45 million unique viewers and more than 900,000 unique broadcasters per month, up from 20 million viewers and 300,000 broadcasters in 2012. The service has already surpassed those numbers in 2014, with a million unique broadcasters this month. Users are watching 12 billion minutes of video per month, with the average user watching 106 minutes of content per day.
"When video game historians look back on gaming a decade from now, 2013 will be the year they cite as the tipping point of streaming," said Twitch vice president of marketing Matthew DiPietro explained. "Every major event, publisher, developer, and media outlet in the gaming industry had a presence on Twitch, and streaming became an ever-present piece of the gaming experience. And it's only going to get bigger."
The average age of Twitch's viewers is 21, and 76 percent of its audience is between the ages of 18 and 49. What are they watching? Livestreams still take the cake, including shows from popular broadcasters include LethalFrag, MANvsGAME, Justin Fylan, and Hafu. Publishers and developers have gotten into the streaming game as well, with Riot, Mojang, 2K, Capcom, Ubisoft, ArenaNET and more showing off their games exclusively on Twitch.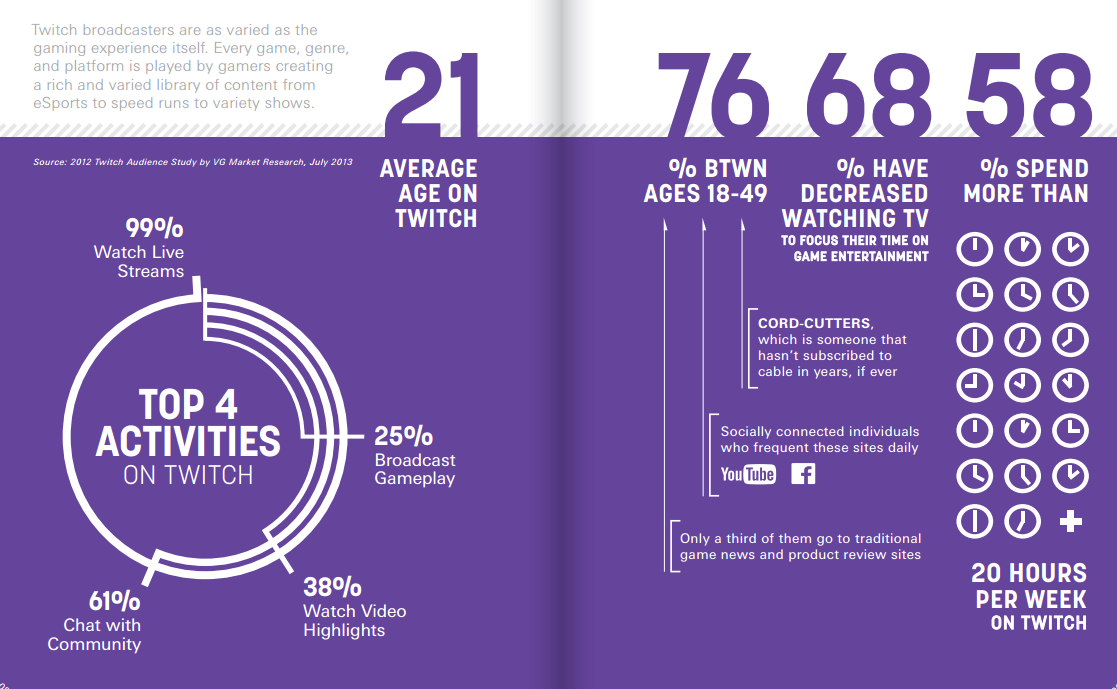 Twitch viewing is also split out in other community-focused events, like eSports matches and championships, live speedrunning, and the odd Salty Bet phenomenon.
Integrated Twitch is already live on PlayStation 4, which contributed to a large part of Twitch's growth in the latter part of 2013. According to Twitch earlier this month, 20 percent of Twitch broadcasters are streaming from the PlayStation 4 system. Integrated Twitch streaming is also supposed to be coming to the Xbox One, but players should not expect that until right before E3.
A full version of the report can be found on Twitch's website here.