The Stomping Land: dinosaur survival sim coming to Steam Early Access starting May 23 - trailer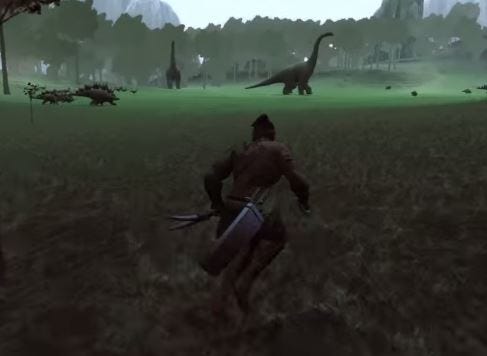 The Stomping Land is the survival sandbox game based in the time of dinosaurs, and developer Alex Fundora has confirmed it's coming to Steam Early Access after being Greenlit by the community.
Powered by Unreal Engine, the multiplayer survival sim sees players roaming a sandbox while hunting smaller dinosaurs with their bow, fishing in lakes and gathering food to outlast each day. It's been Greenlit on Steam, with an early access trial coming on May 23 for Kickstarter backers, while non-backers can buy in from May 30 at $24.99.
The initial dinosaurs waiting to kill you or serve as your food will be the Styracosaurus, Carnotaurus, Gallimimus, Puertasaurus, Helicoprion, Ankylosaurus and Stygimoloch, with more species set to roll out over time. The Stomping Ground will launch with one environment called Capa Island, which is smaller than the game's previously-shown Wayneth Island setting.
There is no inventory, so you must store whatever resources you find in caves doted around the island, while crafting torches, spike traps and even pole vaults to help you navigate and survive the game's many dangers.
We'll have more on The Stomping Land soon.