The petition to cancel the new Metroid Prime already has over 12,000 signatures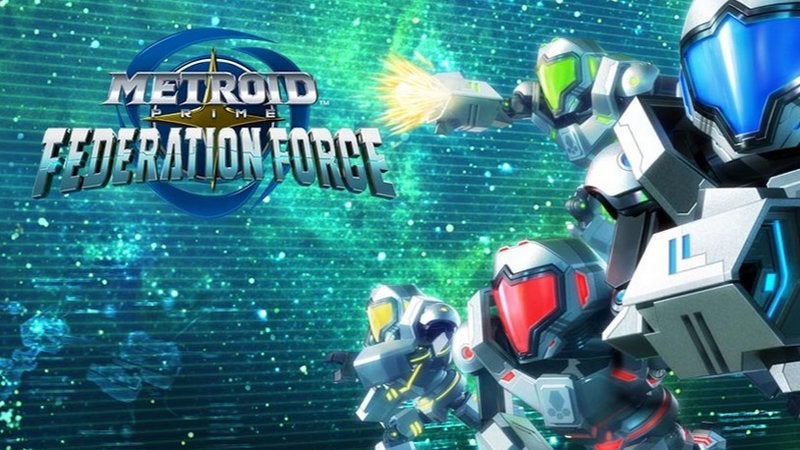 There was once a time when if you didn't like something, you just didn't buy it. Those days are gone. Now, we have petitions.
Not everyone was blown away with Nintendo's E3 digital event. People even thought Nintendo President Satoru Iwata went so far as to apologise for it.
A particular contingent of fans, not happy with the announcement of Metroid Prime: Federation Force - a multiplayer shooter that just so happens to take place in the Metroid universe - have put together a petition for 15,000 signatures to cancel the new game, as it's a property they've all financially invested in and spent time developing, so naturally they were incensed when Nintendo tossed aside everything they'd been working towards.
Not really.
Giving a rundown of the motivation behind the petition, Gilbert Manzanarez has said "For almost a decade, long time Nintendo fans have been waiting for a true Metroid game. Metroid is one of Nintendo's most beloved and respected franchises spanning almost 30 years of legacy."
"What we got however is a disgrace of a game with the name 'Metroid' slapped on the title. It has no elements at all of what Metroid is about and its a disrespectful manner to old and new fans of the series of showing them that the Metroid franchise is not dead afterall. This is not the Metroid we asked Nintendo to make. We should let Nintendo know what we really think of the game and make them actually LISTEN to their fans for once. Help us stop this atrocity of a game from bearing the beloved Metroid franchise name and make Nintendo halt production on it."
I don't know why it didn't occur to Gilbert that Nintedo are developing new hardware and may want to save the next 'proper' Metroid game for the NX console. Or why he didn't notice the total absence of games outside of the holiday window, like Zelda on WiiU.
I do know that I'm getting just a little weary of petitions popping up to cancel something or get someone fired every other day. It's okay to be put out when changes happen to something you like, but there are less obnoxious ways to get your voice heard.
Reasons for signing the petition generally boil down to people feeling like they've been personally slighted and lied to. Being slapped in the face seems to be a common theme. But there are some comments calling for rationality in the sea of metaphorically stinging, rosy cheeks.
"I am in shock that so many people are getting pissy about this game based SOLELY on the fact that it has a "falsely placed" metroid branding," says Jordon Rothgeb. "A game should be only, ONLY rated on how fun *ahem* FUN it looks/is...[Metroid Prime: Federation Force] focuses on multiplayer FUN. so this game is fun. nintendo had a brilliant idea to make a FUN game that has metroid novelties...let nintendo be a FUN GAME company. and let's appreciate them for at least GIVING US SOMETHING."
Which games have almost driven you to the pinnacle of madness that is starting a petition online? My picks are Battlefield: Bad Company and Jade Empire. And don't even get me started on Left for Dead 3.