Split/Second PSP demo hits today along with launch trailer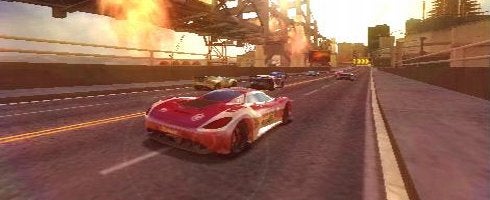 Disney has announced a PSN demo for Sumo Digital and Black Rock's Split/Second has been released on PSP today.
The game has the same content as the consoles version, only with four new Challenge modes added, which will allow you to blow things up, race around really fast, and other neat adrenaline pumping car things.
The game also has a new Docks track, which "works its way through different parts of the Docks area", becoming one of the longest tracks in the game.
"As Split/Second was a visual treat, we knew that we couldn't compromise for both the size of the power plays and sheer on-screen excitement," said Jason Ried of Disney Interactive Studios Europe. "We set out to create a spectacular-looking PSP game and I hope that everyone will agree that this is one of the best-looking racing games on the PSP.
"Another vital ingredient was to make sure that the handling and controls suited the PSP. Sumo are very experienced with years of racing experience and so set about creating a new driving model from scratch. The end result should be a fun, quick and skillful driving system that rewards users who push the cars to the max."
The game hits stores this week so watch the trailer for it below and try the demo.