Sony to distribute DiRT 2 PS3 version in Europe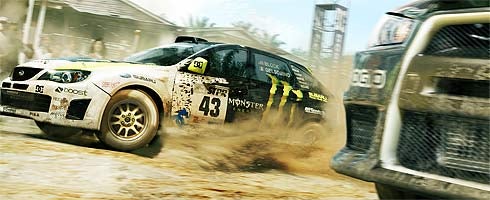 Sony is to handle sales and distribution of the PS3 version of DiRT2 in all PAL territories aside from Spain, Australia and New Zealand, Codemasters said today.
To be clear - this doesn't mean Sony's publishing the game. As we've just been told by Codies PR, "It's strictly sales and distribution... The game will still be published and on the Codemasters label and marketed by Codemasters offices in UK and across Europe."
It's out on September 10 (PAL) and Septembr 11 (UK). PR after the break.
CODEMASTERS® PARTNERS WITH SONY COMPUTER ENTERTAINMENT EUROPE
TO DRIVE COLIN McRAE™: DiRT®2 DISTRIBUTION IN PAL MARKETS.
SCEE distributing "PS3's hottest racer"† for PlayStation®3 system and PSP®.
Thursday, 27th August – 1.00pm UK / 2.00pm CET: Sony Computer Entertainment Europe (SCEE) will drive sales of Colin McRae™: DiRT®2 on PlayStation® formats in all PAL markets other than Spain, Australia and New Zealand, Codemasters® announced today. The arrangement sees SCEE performing sales and distribution for both the PlayStation®3 (PS3™) computer entertainment system and PSP® (PlayStation®Portable) system editions of the much anticipated off-road racing game.
The title, which is currently seeing demo download figures close to the 1 million mark, headlining to rave reviews and heralded as the definitive racing game of the year, will be released on September 10th (PAL) and 11th (UK street date), following the launch of the new PlayStation®3 system.
Commented Axel Herr, Senior Vice President, Publishing EPAC, Codemasters:
"To have Colin McRae: DiRT 2 represented by the platform holder during the new PS3 system's launch window is testimony to the strength of the game and its commercial relevance. The Colin McRae series has enjoyed a great affinity with the PlayStation brand in PAL territories for over 10 years and we're proud to have the support and ambition of SCEE behind it during this key time for both the PS3 and PSP."
Colin McRae: DiRT 2 is set to take racing games to a new level with thrilling new race types, striking locations, big event atmosphere and a peerless line-up of super-charged speed machines, each selected to deliver spectacular, fast paced racing. Taking players on an exhilarating World Tour, Colin McRae: DiRT 2 will deliver over 100 stunning events, including aggressive, multi-vehicle races and intense solo challenges, set in the most diverse and demanding real-world environments.
Offering full head-to-head competitive online play, get ready for the ultimate off-road competition when Colin McRae: DiRT 2 launches September 8th (US), 10th (EPAC), 11th (UK) for the PS3 system, PSP system, Xbox 360® video game and entertainment system from Microsoft® Wii™ and Nintendo DS™. For the latest news and videos, race over to www.dirt2game.com or become a fan at www.facebook.com/dirt2game. A two-race playable demo is now available from the PlayStation® Store in Europe.
# ENDS #
† Quote from PlayStation: The Official Magazine-UK, Oct, cover.