Sea of Thieves closed beta: start time, pre-load details, content and everything else you need to set sail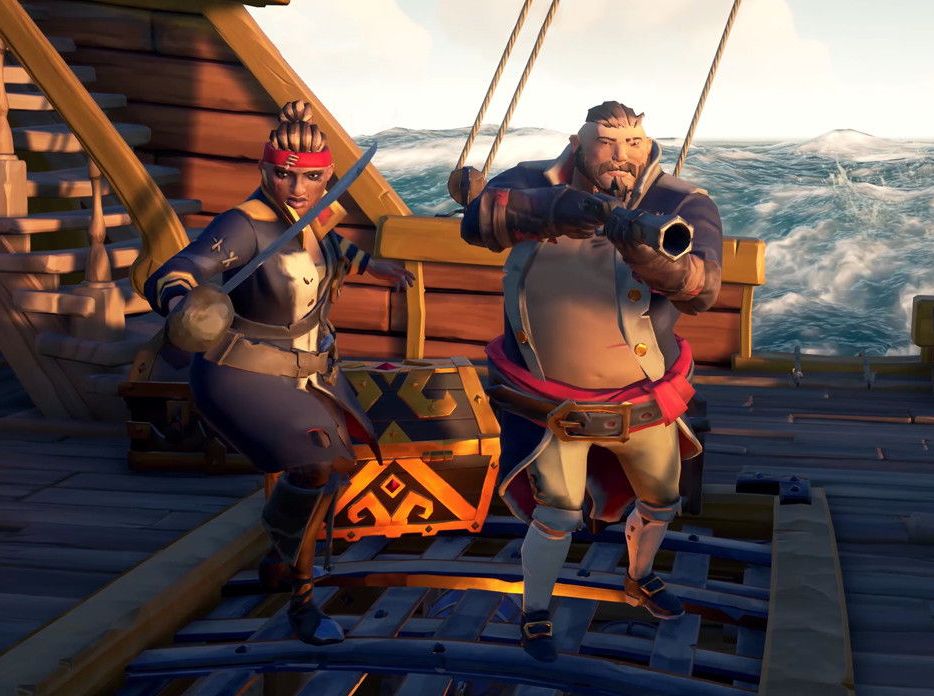 Drink up me hearties, it's time to set sail. The Sea of Thieves closed beta is anchors aweigh this week, running from January 24 to January 29.

Microsoft's co-op pirate sim looks like a hoot, and this closed beta will feature a "bespoke experience" that's been specially made to show off the pillaging and plunder Sea of Thieves has in store.
Here's all the info you need to get started on your privateer adventure, including the times that you can play, how to get access, when you can download the beta client and what to expect from your time on the high seas.
The Sea of Thieves beta will be on both PC and console. And expect to meet each other too, Sea of Thieves supports cross platform play between Xbox One and PC.
Sea of Thieves beta start time
The Sea of Thieves closed beta will start on Wednesday January 24 from:
GMT - 12PM
CET - 1PM
EST - 7AM
PST - 4AM
Sea of Thieves beta end time
The Sea of Thieves closed beta will end on Monday January 29 at:
GMT - 8AM
CET - 9AM
EST - 3AM
PST - 12AM
How to get Sea of Thieves beta key
There are only a couple of ways to get keys to the Sea of Thieves closed beta.
One way was to sign up for the Sea of Thieves Insider Program newsletter before December 1, 2017 - so we're all out of luck there.
The only other way is to pre-order the game. If you pre-ordered digitally through the Xbox or Microsoft store, then the beta will appear automatically. If you've ordered through a different retailer, then you have to redeem the code you were given for the "Black Dog cosmetic pack". Once you've done that, the beta should appear automatically for you as well.
Sea of Thieves beta pre-load
The Sea of Thieves closed beta will be available for pre-load 24 hours before it goes live.
If you've redeemed your Insider Program or pre-order code, the client should appear automatically 24 hours before it starts, at which point you can start to download and install it.
Sea of Thieves beta content
The Sea of Thieves beta won't feature the full game, or even a subsection of it. Rare have cooked up what's on offer in the beta specially to give would-be pirates an idea of what to expect. that includes:
Hunting for buried treasure by following maps and solving riddles as part of voyages that span the Sea of Thieves
Sailing solo or joining a crew before heading out to adventure in a shared world where every sail on the horizon is a ship of other real players
Exploring our world and encountering danger on islands, under the ocean and out at sea with fearsome storms and mysterious shipwrecks
Engaging in epic ship battles with cannons blazing, or going head-to-head against other pirates with pistol primed and cutlass drawn
That should mean that there'll be a decent amount of sea to explore and battle other pirates in, as well as islands packed with buried treasure to loot. Expect to see some of the gameplay elements we've seen discussed in the last few weeks make an appearance, like cooperative treasure hunting and ship navigation.
Can you play Sea of Thieves cross-platform?
Sea of Thieves support Xbox Play Anywhere, allowing you to jump between any Xbox One console or Windows 10 PC and continue where you left off. It will also support cross-play, so you can play with anyone in the Closed Beta regardless of preferred platform.
And here's an update on the closed beta from Rare themselves.
Sea of Thieves will launch on simultaneously on PC and Xbox One on March 20, 2018.