Ring Fit Adventure review: Nintendo's fitness RPG is one of the most pleasant surprises of the year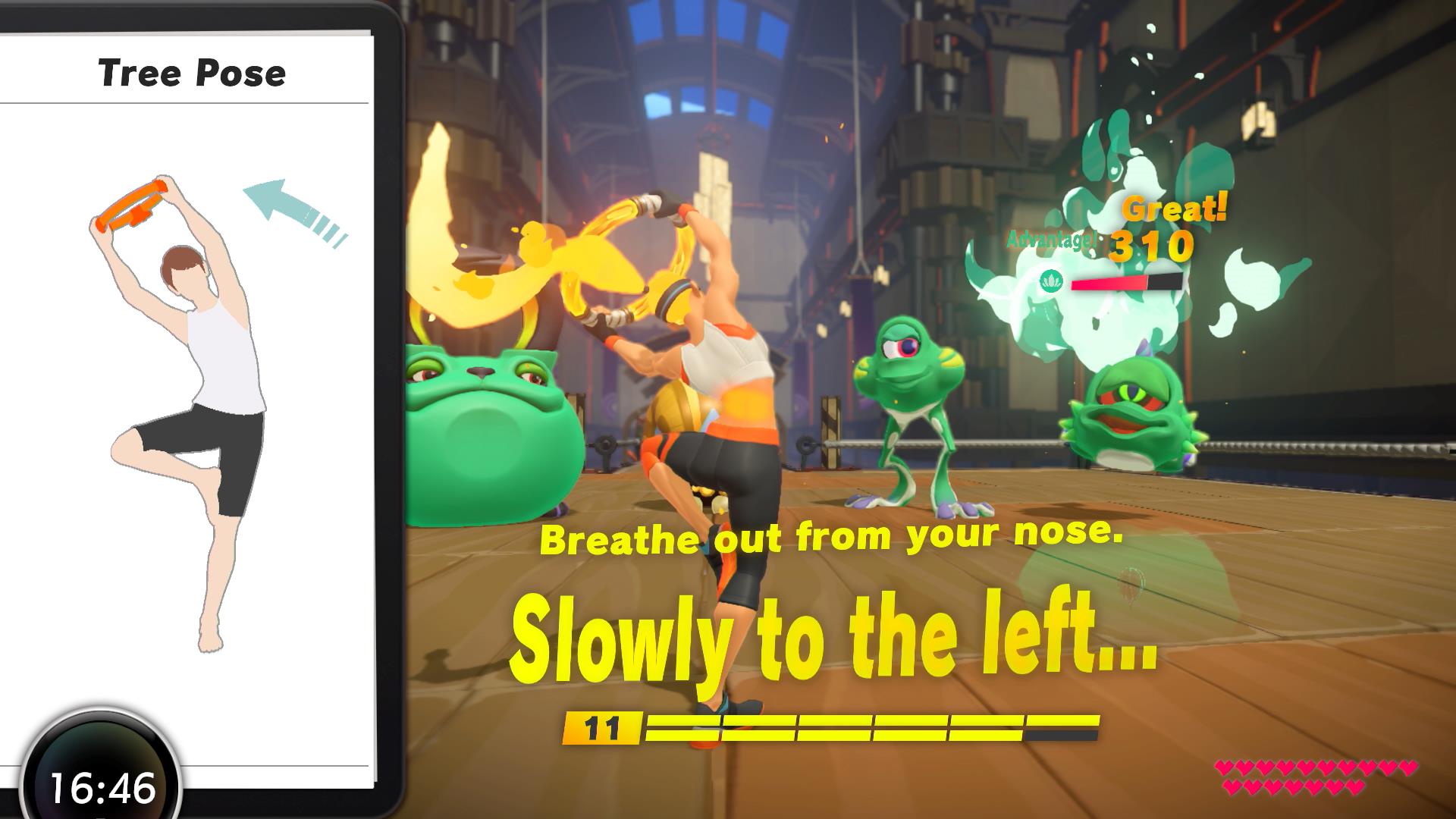 A combination of fitness game and RPG sounds like it shouldn't necessarily work, but Ring Fit Adventure is brilliant.
I worked at video games retail during the great Wii Fit gold rush of 2008. A university student working weekends in a video game specialist store, I was used to serving the usual gaming customers and used to the fever around limited editions and launch days - but I'll honestly never forget the madness around Wii Fit. The audience was completely different to everything else, even fairly unique for the Wii - and you couldn't get hold of one for love nor money. You'd answer the question 'do you have that Wii Fit?' more times a day than you had to explain to a parent that an 18-rated game wasn't suitable for their six-year-old. Which is to say -- a lot.
Anyway, I bring up Wii Fit because Nintendo's latest little surprise release, Ring Fit Adventure, is clearly descended from that most medium-transcendent of games. If you were one of the people who thought of Wii Fit more as fitness software rather than a game, with more in common with an aerobics DVD than Super Mario, Ring Fit Adventure might please you more: it's far more of a video game. That fact actually works tremendously in its favor, too.
In many ways you could think of this as two fairly distinct products. The video game is a role-playing adventure in the style of some of Japan's most beloved - in battle, Ring Fit Adventure has much in common with Dragon Quest. It has all the stuff you'd expect from such a RPG: you'll be leveling up, gaining new abilities and picking which moves to use in any given scenario carefully in order to exploit enemy weaknesses. There's traversal between the combat, a skill tree, a wafer-thin story and a range of colorful levels that are pretty much linear but entertaining nevertheless.
Then there's the fitness side, which like Wii Fit asks you to take up various positions and do various activities, with the Switch's motion-sensing joy-con controllers filling in for the remote and balance board. The two combine surprisingly seamlessly to make a truly unique little RPG that is controlled with your body. It's honestly difficult to believe how well these two relatively disparate concepts blend into one experience that simply feels right.
So, here's how it works: Ring Fit Adventure comes with two accessories, the Ring-Con and the Leg Strap. The Leg Strap is pretty self-explanatory - you strap it on and then slip a joy-con into it and at that point it'll sense your leg movement. The Ring-con is something quite different, meanwhile: a flexible rubber device that can be stretched, pushed and moved around in front of you. Another joy-con slides into this, and it's here where the real magic happens - using the various sensors inside the joy-con, your movements with the ring-con are measured and understood by the game.
Evoking the Wii brings forth memories of flailing wildly at games trying to get things to register, and the derisive message board term 'waggle' - but there's honestly little of that here. Once you're fully in control via the leg strap, ring-con and a couple of associated joy-con, you feel properly in control and constantly receive an appropriate level of feedback. The only occasional problem here, in fact, is with joy-cons desyncing more often than usual when used in this sort of manner.
Probably the greatest trick that Ring Fit Adventure has hidden up its sleeve is also that which most differentiates it from Wii Fit: it doesn't really feel like a video game. In that sense it has more in common with the Wii Sports titles, since you're basically hoodwinked into performing various actions that will test different parts of your body. This is a game where you can wake up with a dull ache the day after playing it, but the difference is that you earned that dull ache by doing specific types of fitness moves that a particular enemy was weak to repeatedly in order to exploit weaknesses and continue on your quest.
You can get more serious with the fitness side if you want, of course. Enter your weight and it'll more accurately track the impact of your exercise, but in a typically Nintendo way this is also an enormously friendly experience. It reminds you to take a break or get a drink, and it'll remind you to think about bumping the difficulty - and thus the intensity of the exercise.
This is the sort of game that only Nintendo could make, and it's a follow-up to Wii Fit that feels worthy of that game's exercise chops while also far more firmly and confidently a video game. Minor hardware issues and a story that's frivolous to the point of bordering dangerously close to annoying, are small issues in the grand scheme of things. This has quietly arrived as one of the most original games of the year - and better yet, is one of my favorites.
Disclosure: a review copy was kindly supplied by the publisher.