Pokemon Ultra Sun and Moon features include surfing, new Island Challenge trials, photo club, more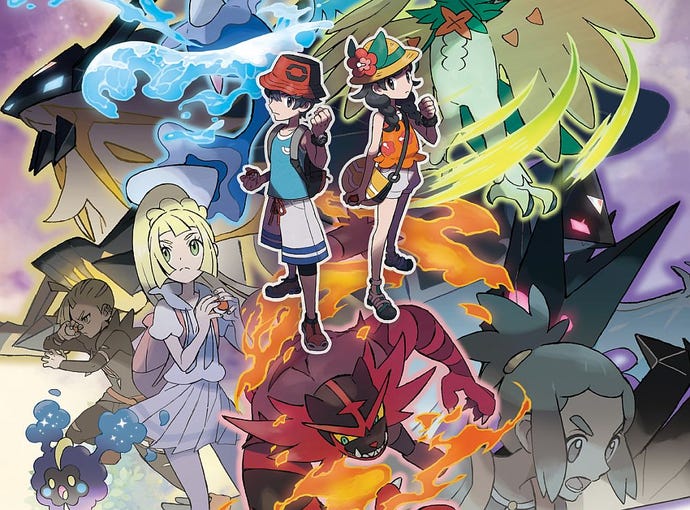 Island Challenge trials will return in Pokemon Ultra Sun and Moon, some of which are different and there is an additional new Trial.
A Pokemon Ultra Sun and Moon information drop has occurred, noting a new Trial and different challenges.
One of these new trials involve Mina, one of the island captains. Trials are hosted by captains. Players will need to face trials on each of four islands in order to complete the Island Challenge.
To finish a challenge, the player will need to best a Pokemon known as a totem. These are rather tough, but victory nets the player the ability to start the next challenge, which is going up against the leader of that particular island.
As Trainers work through the Island Challenge, they will become privy to a bit of trouble involving the Legendary Pokemon Necrozma.
As previously reported, Necrozma can take over Legendary Pokemon Solgaleo or Lunala. These forms of Necrozma are called Dusk Mane Necrozma and Dawn Wings Necrozma.
Trainers will also meet mysterious people and Pokemon as they witness "new dangers closing in on the Alola region."
More than 400 Pokemon will be discoverable, many of which were not available in Pokemon Sun and Moon. Some will only appear depending on which version of the game is played. For example, in the same patch of tall grass where Houndoom will appear in Pokwmon Ultra Sun, Manectric will appear in Pokwmon Ultra Moon.
Pokemon Global Link will also be available when Pokemon Ultra Sun and Moon releases November 17.
Also new to the Alola region, is the ability to surf. Pokemon may be ridden in many areas and in Ultra Sun and Moon, but players will be able to surf the ocean with Mantine as part of the new Mantine Surf.
Mantine Surf provides the perfect opportunity to travel between the islands of Alola in Pokemon Ultra Sun and Moon, and it is also a sport. Trainers will compete for the highest score by "pulling off a variety of moves."
Another new feature making its way to Pokemon Ultra Sun and Moon is the Alola Photo Club. Trainers can now take photos together with their Pokemon. Doing so, Trainers will find Pokemon will become more affectionate towards them.
Players can choose backgrounds, camera angles, Trainer outfits, poses and more for photos. After the shoot, players can decorate the photos with frames and over 100 stickers. These photos can then be shared with other players through communication features on 3DS.
Expect more information on Pokemon Ultra Sun and Moon to be announced leading up to its release this fall.