Pokemon Diamond and Pearl remakes rumoured for Nintendo Switch this year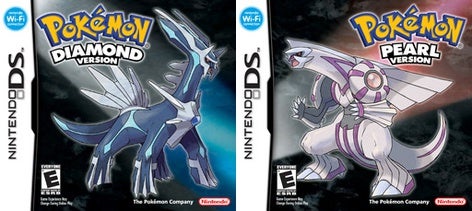 Touched up versions of the 2006 DS games reportedly will be announced next month.
It looks like Pokemon Diamond and Pearl might be remade for the Nintendo Switch.
https://www.youtube.com/watch?v=Mq8Kn6mhUxA
That's according to fan site Centro Pokemon, which reports that updated versions of the two titles are slated to release this year. Apparently, the games are set to be announced in February to coincide with the Pokemon series' 25th anniversary. It's also been discovered that the web address diamondpearl.pokemon has been enabled. Visiting this site returns a 403 error, which means that site access is currently blocked.
The updated version of Diamond and Pearl will then launch at some point during 2021. The site also claims that they will feature classic capture mechanics rather than the updated systems introduced in Pokemon Let's Go.
Pokemon Diamond and Pearl originally launched for the Nintendo DS console back in Japan in 2006, before coming to the rest of the world in 2007 and 2008. Though there's no confirmation of the remake rumours being true as of yet, this does track nicely with The Pokemon Company's strategy to remaking earlier entries in the series. Pokemon Red and Blue, Gold and Silver, as well as Sapphire and Ruby - the first three generations in the franchise - have all received the remake treatment, so it's logical for Diamond and Pearl to be up next. In fact, it's so in-line with the company's previous strategy that VG247's Alex Donaldson has already postulated that Diamond and Pearl remakes could be on the cards.
The last entry in the franchise was 2019's Pokemon Sword and Shield.
Earlier this week, The Pokemon Company announced a year of celebrations to mark the franchise's 25th anniversary. The firm has teamed up with pop star Katy Perry for this birthday bash.
Meanwhile, New Pokemon Snap is set to launch for Nintendo Switch in April.