PlayerUnknown's Battlegrounds desert map preview is great but hey, DayZ fans: can we talk about the fact that there's a bicycle in it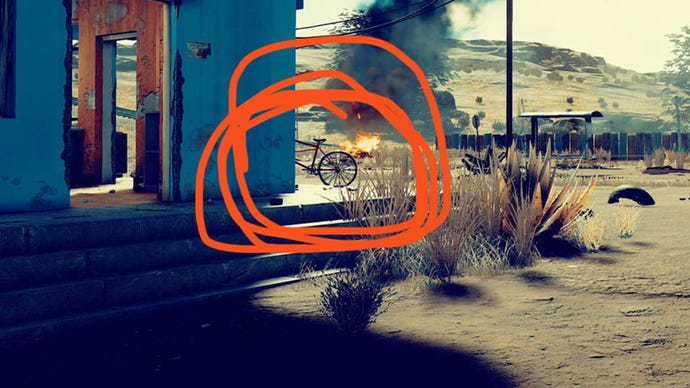 PlayerUnknown's Battlegrounds is getting bikes and DayZ fans are justifiably miffed.
I'm at our new @PUBATTLEGROUNDS office in Madison today. The team is working on our desert map. Here's a WIP preview of this new location... pic.twitter.com/ReLbsvwv9A

— PLAYERUNKNOWN (@BattleRoyaleMod) July 3, 2017
PlayerUnknown's Battlegrounds is getting a new desert map, and the eponymous creative director has shared some preview images.
It looks good, you know - very desert-like, as you'd hope - but what's really got people talking is the apparent inclusion of a bicycle in one of the screenshots. Maybe it's just a prop, or maybe it means ridable bicycles are coming to PlayerUnknown's Battlegrounds.
This has inspired a great deal of chat not just because bikes are a great inclusion for a game like PlayerUnknown's Battlegrounds (they're a very stealthy vehicle choice), but also because the standalone release of DayZ does not have bikes, and this is such a sore point in the community that there's a joke Twitter account devoted entirely to it.
Are you FUCKING kidding me. pic.twitter.com/FzYnotzgK9

— Is Bike In DayZ Yet? (@SadBike) July 3, 2017
Bikes were available in the original DayZ mod, and Bohemia has referenced their eventual inclusion in the standalone release. Unfortunately DayZ's standalone release has become something of a byword for very slow development, having been in Early Access for about three and a half years while arguably failing to reach the standard set by the mod, so goodness knows when bikes will actually turn up.
In any case, PlayerUnknown's Battlegrounds looks likely to one-up its rival in this regard sooner rather than later. No word yet on when the new map will arrive, alas.
In a couple of months, PlayerUnknown's Battlegrounds has grown into one of the biggest games of 2017, with 4 million sales under its scavenged belt. Near constant patching and updates make it one of the best-supported games of its kind and has won it great acclaim from a playerbase tired of early access survival projects dropping the ball.
Missed all of this? The good news is PlayerUnknown's Battlegrounds is coming to consoles, so with any luck an even larger audience can join the quest for chicken dinners.