Playdate is a new handheld with black and white screen and a crank - and it comes with 12 new indie games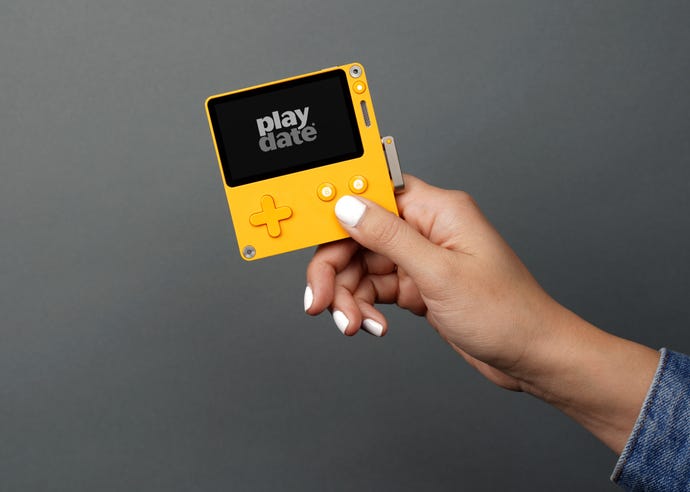 Playdate is a quirky new handheld, due for release in 2020 and priced at $149.

Created by Panic, the publisher of Firewatch and the upcoming Untitled Goose Game, Playdate features a black and white screen, Wi-Fi, Bluetooth, USB-C, headphone jack and a crank that flips out from the side.
Playdate comes with a "season" of games that releases one new game every week for 12 weeks - with the first season included in the base price. One of those games is Crankin's Time Travel Adventure, created by Katamari Damacy's Keita Takahashi and relies purely on the crank.
"This game uses the crank exclusively to control the flow of time, backwards and forwards. Your goal? Get Crankin' to his date with Crankette while avoiding an ever-increasing series of ridiculous obstacles — obstacles that aren't affected by the time control," say Panic.
You can see the first video of Crankin's Time Travel Adventure below:
About those games. We reached out to some of our favorite people, like @KeitaTakahash, @bfod, @helvetica, @shauninman, and many more.

Here's a peek at one: Crankin's Time Travel Adventure, from Keita. It's fun and funny. pic.twitter.com/0Ibwqr5k3I

— Playdate (@playdate) May 22, 2019
"Panic built every part of Playdate from scratch, starting with early board designs (using the hotplate in our kitchen to flow solder), our own Playdate OS, a full-featured SDK supporting C and Lua development, a Mac-based simulator and debugger, and more," said Panic.
Here's a look at some of the first games for the system, as well as a look at the hardware itself and some prototypes:
We've worked on this for four years. We've learned so much — well, there was so much we didn't know. It wasn't all smooth sailing, but little by little we created this thing. And today, we're announcing it to the world, and shipping it in early 2020. pic.twitter.com/B5GwLAMxt0

— Playdate (@playdate) May 22, 2019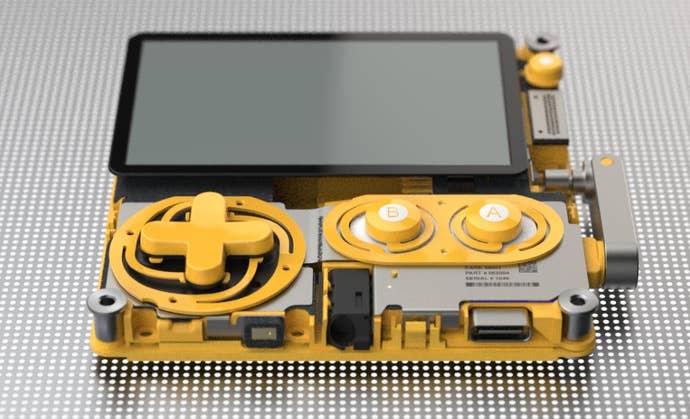 If you think you've seen Playdate somewhere before, it was right in front of you when you played through Firewatch back in 2016:
Congrats to @panic for announcing @playdate, their tiny game console full of big surprises! https://t.co/gqiSgaA2cK The first surprise: It was right in front of us this whole time... pic.twitter.com/ejTG6Oc2qF

— Campo Santo (@camposanto) May 22, 2019
You can sign up for more info at play.date